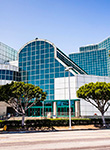 Attention West Coast retailers looking for fantastic sourcing opportunities for the second half of the year: the summer California Marketplace Temporaries trade show will be held July 21-24, 2017 at the Los Angeles Convention Center. Make your plans and register now!
Christina Bell-Davis, Vice President, Gift & Souvenir for Urban Expositions, tells Independent Retailer, "For summer, we're bringing all of our temporary exhibitors together under one roof with the key goal of showcasing even more of the trend-forward designs, impulse items and Southern California styles that can help retailers set their stores apart –in one easily accessible location."
The easy flow of the exhibitors in the World Style section of the show allows buyers to effortlessly shop the selection of popular wholesale products and supplier deals. As in the past, the California Marketplace Temporaries are once more scheduled within a date pattern that avoids conflicts with other industry shows. In fact, the summer show coincides with the LA Mart Permanent showrooms: LA Gift & Home Market Week. To ensure that attending buyers have easy access to both locations, Urban Expositions has simplified the registration process. One ExpressPass registration badge will give buyers access to both show venues. Complimentary shuttle service will be available between the LA Mart and Los Angeles Convention Center, as well as between the associated host hotels as an added buyer convenience.

The summer market exhibitors showcase an array of fashion, home décor, fair trade and hand-crafted goods, all available for immediate delivery and ordering – from around the globe in a high-energy marketplace setting. "Our show attendance draws heavily from Southern California and other parts of the western region and these retailers, like all retailers, are searching for those new, different and undiscovered resources that can attract new customers and sales," says Bell Davis.
Buyers attending this show will find a wide array of wholesale suppliers representing top brands, artisans and emerging leaders in categories including Gift, Trend LA, Makers' Market – handcrafted items, World Style, Jewelry, Personal Style, Boardwalk, Souvenir and Resort. In short, this powerful combination of suppliers is sure to offer retailers a buying experience not to be found anywhere else.
The California Marketplace Temporaries will be held at the Kentia Hall in the Los Angeles Convention Center, July 21 – 24, 2017. For more information on the California Marketplace Temporaries show, please visit www.california-marketplace.com or call 800-318-2238.
Upcoming Dates: July 21 – 24, 2017