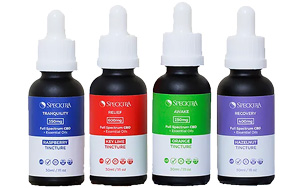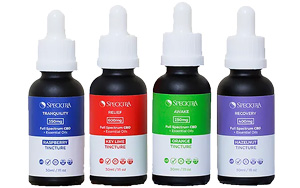 In an industry filled with questionable practices, retailers need to seek out the right suppliers with 100 percent transparency in their business models and ingredients. On top of offering products that actually work, Specktra CBD is committed to doing things right and never cutting corners.
Adding Essential Oils for Maximum Benefits
Going into business about a year ago, Specktra CBD is a nutraceutical company that specializes in developing CBD formulas for targeted health benefits. Their formulas combine full-spectrum CBD rich hemp extract and a well-researched balance of organic essential oils, terpenes, and phytocannabinoids for maximum therapeutic relief and an incredible taste.
The addition of aromatherapy to Specktra CBD's products helps to optimize the benefits of the CBD. Aromatherapy has shown many benefits in aiding with health, which is why Specktra decided to combine both CBD and essential oils so consumers can get the maximum benefits from their products.
Specktra CBD also offers multiple different CBD delivery systems for all types of consumers. They offer vapes for those who prefer a faster acting relief, and tinctures for those who prefer to add their CBD to drinks or food, and even a hemp pain patch for those who don't like to vape or use tinctures.
The Most Affordable & Potent Hemp Patch
Specktra formulated this Transdermal Hemp Pain Relief Patch with 60mg of full spectrum hemp, transdermal delivery, organic essential oils, and organic aloe vera for maximum relief. Users can simply place the patch on or near the area of pain after removing the liner. It works best on a flat, dry area, and can be removed by peeling off and discarding responsibly.
The waterproof adhesive stays put to allow prolonged adhesion to the skin surface and the relief effects often last up to four days. This patch makes life much easier. No need to overthink it by adding smelly creams or rubs, just place the patch in the desired area, and users can get on with their lives.
Never Cutting Corners
All of Specktra CBD's products are rigorously third party lab tested to ensure the utmost purity, consistency, and quality. The company only uses clean, natural, and organic ingredients. Everyone has a right to the highest quality CBD products, and Specktra helps to make that happen. To get started today selling Specktra CBD products in your store, visit www.specktra.com to become a wholesaler.
Specktra CBD
22353 S Western Ave, Suite 201
Torrance, CA, 90501