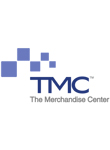 If you're looking for a super-convenient and ultra-relaxing way to source new merchandise for your store, head out to Chicago's Shiller Park and check out The Merchandise Center, or TMC. Located only a half mile from Chicago's International O'Hare airport, this collection of over 90 wholesale showrooms professionally and conveniently presents a huge array of high quality products at below wholesale prices.
Owner Mark Passis says, "We have the majority of the leading players in the closeout and general merchandise industry." Many national brands such as Ross Stores®, Family Dollar®, True Value® and Christmas Tree Shops® source their store offerings from The Merchandise Center's events.
Attending buyers are guaranteed to find exhibitors offering a variety of closeout and discount housewares, hardware, seasonal goods, accessories, toys, home décor, health and beauty, and name brand goods. The easy flow from one showroom to the next also allows buyers to feel relaxed and in control of the entire show experience.
"Our buyers and sellers value being able to spend time working together in a more private setting," continues Passis. The convenience of the permanent showrooms allows the exhibitors to display their products in a way that makes sense for retailers to see and imagine in their own stores. The slower pace of the events also gives each exhibitor more time to spend getting to know individual buyers. "Vendors have more time to devote to each retailer. They can address specific needs and be more helpful," Passis notes.
TMC offers buyers seven different shows across the buying year, so that every seasonal opportunity and trend can be properly addressed. "We're very accessible," says Passis. "Whatever season you are trying to buy for, we have a show to accommodate you." In addition to the convenience of being so close to a major airport, TMC brokers discounted rates for accommodations at nearby hotels, all within a brief walking distance to the showrooms. Why not take a few days to visit the Windy City, and find new treasures for your store at the same time? To register for an upcoming show, please visit www.tmcexpo.com.