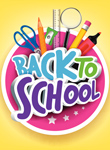 It's almost summer, but back to school will be here before you know it. Over the past few years, timelines for back to school shopping have continued to spread. According to the National Retail Federation, over 22 percent of shoppers start back to school shopping more than two months before school starts and over 50 percent began shopping one month before school starts.
Make sure you are prepared to catch those early-bird shoppers and consumers looking to spread out their purchases. Overall, consumers plan to spend nearly $50 billion on back to school supplies including clothing, electronics, shoes, and classroom necessities. 77 percent of parents are required to buy classroom supplies. Of those who purchase, two out of three will buy more than what's required.
Back to school is primarily a brick-and-mortar event, as nearly two-thirds of purchases are made in-store. Purchases are often made together, with families testing out products, kids trying on clothes, and parents double-checking supply lists. For those who do buy online, free shipping is a must. 84 percent of shoppers won't make any online purchases for back to school without free shipping.
Since back to school spans such a wide range of merchandise, there are plenty of opportunities for any retailer to get involved. Back to school purchases are a must for many households, and are regarded as essential rather than something that could be put off or downsized. According to the National Retail Federation, back to school is a "stock-up" purchasing cycle rather than a "make do" cycle. In other words, shoppers are not willing to sacrifice on quality for the price, and they are looking to purchase goods that will last. NRF president and CEO Matthew Shay says, "Families are still looking for bargains, but there are signs that they are less worried about the economy than in the past. We are optimistic that overall economic growth and consumer spending will continue to improve. We fully expect retailers to be aggressive with offering great deals both in stores and online for back to school shoppers. And retailers will keep a close eye on inventory levels as families spread out their shopping."
Overall, back to school spending has increased with the improving economy. However, shoppers are still looking out for a bargain, which explains why purchases are so spread out. Parents and families start early for plenty of time to source out the best ads and promotions on the high-quality products they need.
When planning for back to school, don't forget the back to college demographic. College students and families with children in college plan to spend nearly $900 on average, and over $48 billion in total. In addition to traditional school supplies and apparel, these shoppers are looking for dorm furnishings, food items, personal care, and gift cards.
Families and students will have their eyes and ears out for bargains all summer long. As retailers, it's important to plan ahead for these savvy shoppers. Families are looking to stock up for the school year ahead, and are willing to spend a little more for supplies that will last the entire school year. Overall, quality and value reign supreme. BOGO deals and value packs resonate well with these shoppers. If you're setting up an entire back to school display, consider sorting smaller items in $5 and below or $1 and below bins. Basic products like folders, crayons, glue sticks and pencils will be on everyone's shopping list. Many retailers will be offering similar prices, so for many shoppers, it will come down to convenience and availability. In 2017, retailers who make the back to school shopping experience convenient and offer value-adding sales and products will come out on top for busy families.
To give your store a competitive edge, Independent Retailer has gathered a few of our favorite value-adding suppliers for back to school. Clothing, specifically kids clothing will be on everyone's shopping list. Pink Truck® Designs is a kid-inspired, parent-approved clothing company that inspires inclusivity and individuality. Crayons are the writing utensil of choice for many school-aged children and families. Crayon Rocks, developed by a special education teacher with the support of occupational therapists, gives kids the fun coloring tool in a shape that helps develop motor skills and proper writing utensil grips, instead of the fisted grip most stick crayons inspire. Learn more about these innovative products below:
When it comes to back to school clothing, Pink Truck® Designs is making waves. Founder Dana Babbin created a clothing line to support authenticity and that allows people, especially children, to wear what they love whether it's the color pink, blue, fire trucks, planes, trains, tractors, or cars regardless of their gender. Babbin started Pink Truck® when her twin girls loved dolls and tutus, but also really loved trucks and superheroes. Though she previously worked as a prosecutor for online crimes committed against children, Babbin was not prepared for the hurt she felt when her own children struggled with hurtful comments and rejection just for being unique.
Babbin quickly discovered that she and her children were not alone. There are many girls who like trucks, and many boys who like pink. No child should have to feel awkward or alienated for what they wear or what their interests are.
Babbin created a clothing line featuring classy designs on soft textiles that encourage people of all ages to be true to themselves and to stand up to bullying. The product line ranges from toddlers to adults. Kids products include t-shirts, hoodies, and racer-back tanks in car, truck, police cruiser, bicycle, airplane, tractor, train, and tugboat designs in fitted and box cuts. Pink Truck® is a great fit for back to school shopping as it helps encourage kids to embrace individuality and feel comfortable being themselves, inside the classroom and out.
Pink Truck® has been featured in Women's Health, the Boston Globe, NPR, and several news shows nationwide. Her community knows as "Pink Truckers™" is growing rapidly as many people are looking to change gears away from outdated symbolism and color-coded apparel, and leave gender bias in the rear-view mirror.
Pink Truck® Designs
Tel.: 508-381-8613
www.pinktruckdesigns.com
---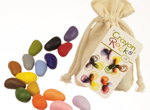 Crayon Rocks
Crayon Rocks are a patented crayon writing tool that helps children develop motor skills and their tripod grip. They were developed by Barbara Lee, a special needs teacher who worked with elementary school aged children for 23 years. She invented Crayon Rocks after being inspired by occupational therapist Jan Olsen and her Handwriting Without Tears program. She learned from Mrs. Olsen how important it was for children to develop a strong tripod grip early in their education process because handwriting skills depend upon it. Lee says "There are many children being referred for handwriting problems and students with handwriting problems. If you can't write your name or print legibly you're at a huge disadvantage in school." Seeing that a simple tool to develop these skills in young children wasn't readily available, Lee set out to develop one. "We needed something to help them develop the tripod grip muscles and improve motor coordination for better handwriting."
Since a child's first writing tool is usually a crayon, Lee believes that crayons should be one that encourages him or her to use the thumb, first and second fingers in a tripod grip. This is what makes Crayon Rocks a wonderful tool for fine motor development. Because of their shape, they do not allow kids to easily grip them in a closed fist which deters fine motor development and are also more resistant to breaking. They can be used to color in large, wide strokes and in small, fine lines. Crayon Rocks are specifically designed for children's small hands, so each crayon is one and one-quarter inch by three-quarters of an inch. Though they seem small, their volume is greater than that of a stick crayon.
Unlike most crayons which are made of petroleum paraffin wax, Crayon Rocks are made from Kosher soy wax that is made in the United States. Lee combines this wax with natural mineral pigments to create beautiful colors and a natural ground rock that gives the crayons their body. This creates a crayon that goes on smooth and blends easily. Lee explains "These crayons don't break, they wear down uniformly so you actually get the use of the whole crayon, unlike stock crayons which can break. One box can last a classroom an entire year."
Lee and her team make every Crayon Rock themselves in a barn in rural Kentucky. Their manufacturing and production process has been streamlined since Lee first developed the Crayon Rock in her garage, but everything is still made at home in the United States.
Crayon Rocks are used in many K-12 schools and occupational therapy clinics throughout the country. They are also sold in many toy stores, specialty stores, museums, brick and mortar, and online retailers in the United States and overseas. Lee explains "Many people love Crayon Rocks because they are a sustainable and eco-friendly product that also has great educational value."
Crayon Rocks are available in a variety of packages including an eight-rock bag of primary colors specifically designed for preschoolers, sixteen-color bags for slightly older children, "Just Rocks" box kits available in eight, sixteen, and thirty-two colors which are perfect for classrooms. Crayon Rocks also offers holiday and seasonal packs. Crayon Rocks offers a counter display case which features sample rocks and paper, so customers can try for themselves. According to Lee, "Retailers tell me when they put their display near the cash register, the crayons fly out the door."
Crayon Rocks is offering a discount on wholesale orders exclusively for Independent Retailer readers. Mention you were referred by Independent Retailer, or enter code BTSIR at checkout for details.