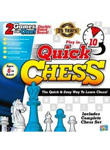 QuickChess was first introduced at the 1992 NY Toy Fair at the Javits Center. At the time, inventor Joe Miccio was an FDNY Firefighter and had previously served for ten years as an NYPD police sergeant and instructor in Brooklyn. The idea for QuickChess was born when a friend asked Miccio to help teach her kids how to play chess. "I'm not a chess expert," he tells Independent Retailer, "But I am pretty good at teaching and have a knack for working with young kids." He naturally started breaking each piece down into a mini-game for the kids and quickly realized they were actually absorbing the different roles and strategies for each piece. Miccio then started sharing his method with local schools and libraries, teaching more and more children how to play chess.
"QuickChess is an educational two-sided board game that teaches children how to play chess in 10 minutes by breaking down each piece's moves and attacks," explains Miccio. The patented board game comes equipped with a reference mat, so instructions are extra simple. Once each mini-game is mastered, the game can turn into a full-size chess board with all 32 pieces.
Miccio celebrated the 25th anniversary of QuickChess by returning to the New York Toy Fair this past February. He recently retired from firefighting, and will be devoting more time to teaching chess at local schools and libraries, and helping a whole new generation learn how to play. "Kids respond when they're challenged and entertained," explains Miccio. "Rather than a mindless video game or shooting game, QuickChess teaches children ways to improve their minds. Chess teaches them the value in strategy and not acting on the first impulse. I'm excited to reach a new generation. To be able to reach so many more children and even parents, it is a thrilling experience for me, and hopefully, for them."
QuickChess has won many awards over the past 25 years including the Parents' Choice Gold and Classic awards, Dr. Toy Best Children's Vacation Products, Top Kids Games of the Year, and has been endorsed by Susan Polgar, 4-Time Women's World Chess Champion.
QuickChess is available for wholesale through Getta1Games. For more information, visit QuickChess.info.