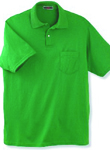 While other clothing wholesalers and retailers are faced with the challenges of increased fuel costs and raw material prices, Cotton Connection continues to offer competitive pricing. "We can meet or beat any published price," says Ibrahim Kothawala, director of operations. A wholesaler of activewear in Chicago and the Midwest, Cotton Connection began in 1980 on the north side of Chicago and quickly expanded. Now the company sells to independent retailers, screen printers and embroiderers. As a distributor of Fruit of the Loom, Gildan and Jerzees brands, the company looks to maintain its mission of providing the best quality and selection of name brand wholesale products, with outstanding service and value. It does so by offering items as low as $0.50 to $10 or $12 wholesale.
Quality and Cost Effective Cotton Apparel
And while Cotton Connection has attracted a customer base because of low priced, high quality brand name products, the company also imports many non-brand label activewear, ranging from tube socks to big and tall T-shirts. "Our best sellers are always changing, as apparel changes each season," says Kothawala. While customers may be clamoring for hooded pullover sweatshirts in the cold winter months, polo shirts will be in high demand when golfing season begins again. "This summer, V-neck T-shirts have become very popular, so much so that we've added eight colors to the line. Last summer it was crew neck T-shirts," notes Kothawala. The constant change in trends that requires Cotton Connection to frequently change its specials.
The company frequently runs sales promotions. Every visit to the website will reveal a special deal, including closeouts, weekly specials and much more. The wholesaler also offers a fax broadcast every time a new sale occurs. To be a part of the fax broadcast, retailers are asked to call and give their fax number to a sales representative. "The best way to learn about Cotton Connection and its products, however, is through our intuitive website," adds Kothawala. Customers can browse merchandise categories, check stock availability, as well as place orders.
The most accurate way to find real-time pricing is also via the company website, with a registered login. Retailers are presented with dozen pricing and case pricing. "Case pricing is the preferred route, as it leads to deeper discounts for those looking to buy inventory," says Kothawala. "We try to remain consistent with our pricing. We can match any legitimate price, published or special bid for large quantity orders, offered by any of our competitors on any item that we carry and have in stock."
For more information:
Cotton Connection
4850 S. Kilbourn Ave.
Chicago, IL 60632
Tel.: 773-523-0505
Toll Free: 800-635-1104
Fax: 773-523-0554
Email: info@cottonconnection.com
Website: www.cottonconnection.com