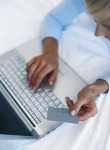 ComScore Inc. has released its fourth quarter 2010 U.S. retail e-commerce sales estimates, which showed that online retail spending reached a record $43.4 billion for the quarter, up 11 percent versus year ago. This growth rate represents the fifth consecutive quarter of positive year-over-year growth and second quarter of double-digit growth rates in the past year, the company says.
"Retail e-commerce had a strong fourth quarter, growing 11 percent versus last year as holiday-season spending was bolstered by an improving sentiment among some consumer segments and by retailers' discounting and promotions," comScore chairman Gian Fulgoni said in a statement. "The 2010 holiday season saw the first billion-dollar day on record and several more surpassing $900 million to help propel Q4 to record spending levels. We anticipate that the progress we've seen in the past year as we climbed out of the recession will continue with sustained double-digit growth rates in 2011," he added.
The survey also found that the top 25 online retailers accounted for 68.4 percent of dollars spent online, up 5.6 percentage points from year ago, and that 84 percent of U.S. Internet users conducted an online transaction in Q4 2010, up from 78 percent last year.
The full comScore report, along with a chart showing online spending going back to Q1 2007, is available online. You can also register for the live Webinar offered by comScore on the state of the U.S. online retail economy through Q4 2010.