By Bill Kretschmar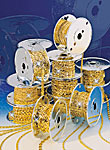 If you wear a size 9-½ in shoes, would you buy size 10 because that is the closest size the store had? Absolutely not. If your ring size is 7 and all the store has is size 6 or 8, then you will most likely walk out empty handed—as you should in this situation. The same goes for purchasing fashion jewelry chains. If you need a 19 ½" necklace, a 7 ¼" bracelet and a 10" anklet, then that is exactly what you should get—not the standard garden variety chain lengths that the jewelry industry has tried to force the public into.
Custom-made chains
The Inch Of Gold concept of enabling retailers to offer consumers custom-made chains in any length is taking off in a big way. With so many choices, and customization becoming more and more prevalent in a wide variety of products, retailers need to tailor to their clientele's specific requirements whenever possible. That includes offering a wide variety of chain styles that can be made any size quickly and easily into custom fit jewelry on the spot. A few cookie-cutter size chains hanging on a rack just doesn't cut it any longer.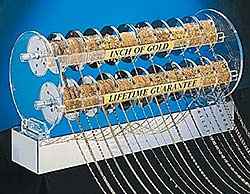 Offering a wide selection of chains presented on spools in an attractive counter top display fixture catches the customer's attention. Be sure to offer an array of chain designs, easily assembled in any size right before your customer's eyes. Now your customers can walk away with a perfect fitting chain that they will love. Offering it by the inch allows for custom made necklaces, bracelets, anklets, belly chains, chokers, children sizes and much more.
So ask yourself: Would you rather offer a variety of chains that you can easily make in absolutely any length people want, or standard cookie cutter size pre-made chains that never fit quite right?