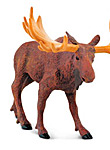 Safari Ltd., maker of miniature figures, releases around 70 new figures a year and offers more than a thousand in all. Where in the world do they come up with all those ideas? "We get many suggestions from letters and emails," says Matthew Mullan, social media specialist. "People comment on Facebook and Instagram. You name it."
Safari's figures run the gamut, from dinosaurs, dragons, and wildlife to mythical creatures. Some, like the "Good Luck Minis," are just the size of your thumb, while the largest measure 18 inches. All are authentic and accurate, designed and built to scale, and hand-painted. It takes 8 to 10 months from start to finish to create a single figure. "Say someone has a mythological creature they're into," says Mullen. "They will send that idea in to us, and we'll add it to our inspiration list. We regularly send these ideas to the product development team. Sometimes they will even go and build a prototype first."
For the company's new feathered dinosaurs, the Carnegie Velociraptors, Safari's designers even worked with a paleontologist to make sure the figures were anatomically accurate and built to a 1-50 scale. The figures even have feathers, as, it was discovered, their real-life predecessors did. "They will be groundbreaking," Mullen says.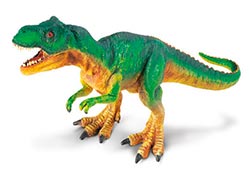 Safari's products are billed as "Toys That Teach"—geared toward parents looking for toys that will enhance their kids' lives and inspire learning. They're especially popular with home schoolers, Mullen says. Another target market is collectors.
A popular use for the figures is as birthday party favors, activities, or decorations. "We've had people put our domestic cat collection on their cupcakes and do a theme party with a safari theme. One even used a tube ("Toob," in Safari's lingo) of human organs for a birthday party," says Mullen.
Buying details
Retailers can purchase directly from Safari's wholesale portal. The retail markup varies by item, with some products, such as the Good Luck Minis, commanding a healthy markup (with a wholesale price of 24 cents, they retail for $1). The company exhibits at various shows throughout the year, with the largest being the American International Toy Fair in New York each February. They will be participating in The International Gift Exposition in the Smokies Nov 3 to 7. The minimum order is $100.