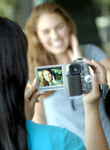 Retailers invest in mystery shoppers, customer surveys and comment boxes to get inside their shoppers' heads. An inside look into what customers love and loathe could mean the difference between record sales or bankruptcy. But do you ever feel like they aren't being completely honest with you? If they were telling the whole story about their shopping experience, you should be able to correct any mishaps and turn any shopper into a repeat customer every time. Synovate Retail Performance, a global supplier of scientific footfall monitoring and behavioral analysis systems, is asking consumers to shout about shopping in a global competition launched to find out what consumers really feel about shopping and retail stores. The method to find the truth is a combination of incentives and new research outlets. Julie Cumberland of Synovate Retail Performance says, "We envisage that by making their own videos, consumers will be more frank with their opinions than they are in traditional customer research. It's their opportunity to really share what they feel about the experience of shopping today. We are looking forward to finding out what the shopping public feels could be improved with their retail experience, particularly in the current economic environment."
Consumers Answer Retailers' Must Know Questions
In an attempt to get consumers to dish the dirt on what annoys them most about shopping, shopping habits, as well as best and worst retailers, Synovate is inviting them to host a two minute interview, whether it be via mobile phone or camera. These participants will answer questions about their current shopping behavior. Below are the questions retailers are looking to have answered:
When you are shopping, what are the things that annoy you the most?
If you had a magic wand, what would you change about shops and shopping?
How long do you spend shopping?
What sort of shops do you visit and how many on average on a typical shopping spree?
Who is your favorite retailer? What's the best shop you've ever been to and why?
How have your shopping habits changed in the last year?
Do you still love going to the shops or do you use the Internet more nowadays?
A panel of expert judges will be viewing the interviews and will be selecting the best of the best. On September 5, the lucky winners will receive an iPad, iPhone 4 or latest equivalent.