By Fergus Reed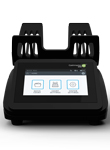 Cashmaster International, one of the leading companies in the global cash management sector, has expanded its range of products with the launch of Cashmaster One. For retailers handling large volumes of cash and in need of quick and accurate counting, the Cashmaster products are ideal.
This newest product, Cashmaster One, delivers a count-rate six times faster than manual counting alone. With three Cashmaster One models now available to retailers, functionality is tailored to all sizes of businesses ranging from Cashmaster One pro for small business traders; Cashmaster One plus for small/medium enterprises and Cashmaster One max for large organizations.
All Cashmaster One products offer key benefits to businesses seeking efficiency, accuracy, interactivity and a fully customizable and solutions tailored to all environments
Benefits include touch screens with color displays and an intuitive, easy-to-use 'icon' menu, a compact, a lightweight and quiet machine, all three products in the Cashmaster One range can be wifi or Bluetooth enabled and come with USB ports as standard, and all products are no fuss printing – with intelligent auto-start, and no additional configuration required, it will automatically offer a variety of print options including high quality graphics.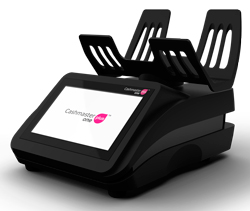 Gordon McKie, CEO of Cashmaster International, commented: "The entire Cashmaster range, which has now been expanded by the launch of Cashmaster One, is built on a central principle – businesses operate in highly competitive marketplaces where accuracy and efficiency really matter to the bottom line. Counting a cash register by weight can transform how you run your business. Using count-by-weight products allows organizations to count a till in less than a minute – reducing loss and shrinkage and allowing operators to spend more time focusing on customers.
"Not only is Cashmaster One intuitive for users, its connectivity options allow for complex cash reconciliation processes. Accuracy and accountability matter whether you have one outlet or hundreds feeding into a global infrastructure."
For additional information on Cashmaster One please call (international) Tel: +44 (0) 1383 416 098 or visit www.cashmaster.com.