by Meaghan Brophy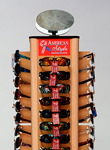 Finding the right sunglasses for your store can be a daunting and intimidating task. It is easy to fall into the trap of selecting styles based on personal taste. If you are a retailer looking to bring sunglasses into your store for the first time, or are looking to revamp existing displays, purchasing assortment packs can save you some time, and cut down on the trial-and-error period.
American Style Sunglasses is a new line and new concept created by industry professionals with over 40 years of experience. Their style experts have a lengthy history working in various retail stores selling sunglasses, so they know first-hand what sells best. From their own experience, they have witnessed many stores carrying a large number of only a few different styles of glasses. The sell-through rate for this model is significantly lower than sales for displays with only one or two pairs of a wide variety of styles. To solve this common retailer problem, American Style Sunglasses created their assortment pack model. The assortments are color-coded to represent different categories of sunglasses.
The red, white, blue and black color codes represent sports and action, ladies' fashion, unisex trends, and unisex polarized glasses. Each pack contains an assortment of 12 pairs of glasses all within one specific color-coded category, and is hand-selected by experienced professionals. Al Underwood, founder of American Style Sunglasses, says that his red category, the sport and action glasses, have been his best sellers, though the right assortment will vary for individual stores based on location and store type. All of his lines promote the fusion of classic American looks with contemporary trends.
Orders leave the warehouse within two days. Assortments are always packs of 12. There is no minimum order, and those with four or more packs receive free shipping. Glasses are priced at $3.33/pair wholesale and retail for $9.99/pair retail. As Underwood says, "It's not how much you spend, it's how much you make! American Style offers great quality and styles at a reasonable price. Customers will come back for more." To view the assortment packs and for ordering information, visit www.americanstylesunglasses.com.