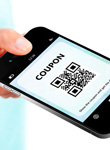 By Erika Jolly Brookes
Coupon codes are a very handy tool to attract new and repeat customers. In fact, more than three in five consumers actively seek out coupons in preference of other types of promotions according to recent research from Placed (www.placed.com).
With 121 million U.S. digital coupon users and climbing, according to eMarketer (www.emarketer.com), it is important that small businesses harness the power of these promotions, especially to boost holiday sales. The following are three ways to incorporate them into your marketing strategy this holiday season.
Try Something Unique
First things first. Decide what type of offer makes the most sense to utilize in your holiday campaigns. While many small businesses widely use offers and promos, such as "type THANKS16 to redeem," using unique coupon codes allows better tracking by segment and prevents coupon code abuse.
Unique coupon codes allow merchants to personalize offers for different customer segments. Offering a discount based on customer insights and behaviors helps to cut through the clutter of other competitive promotions and drive sales.
Create a Sense of Urgency
Some shoppers need a little nudge when it comes to finalizing their purchases. Small business owners can motivate customers to complete their purchase by incorporating unique coupon codes as part of their abandoned cart strategy. So when someone adds items to their cart but doesn't finish the purchase, merchants can remind the customer about the items they were viewing a few hours later.
If the customer still doesn't check out, send a second reminder email a few days later offering a time sensitive, unique coupon code with an expiration by midnight or within a day. This encourages the customer to check out immediately.
Give Them Reason to Return
Continue momentum with your customers by offering a discount code for a future holiday purchase. Once they come back, incentivize more actions on your site by using coupon codes as rewards for specific actions.
One way retailers do this is by offering discount codes or brand loyalty points for key actions such as submitting a product review or commenting on the Facebook page. These seemingly small actions quickly add up and act as virtual word-of-mouth product endorsements. Just like a virtual punch card, merchants can reward their customers for each purchase and encourage them to return.
As a small retailer, you can also offer something different and unique from your competitors. From supporting a social cause to creating one-of-a-kind products or services that can't be found anywhere else, the relationships you build as a small business can have a lasting impact. This helps you stand out from the competition during a season of not just giving, but also giving back.
Coupon codes provide a final boost
A survey by the E-tailing Group revealed approximately half of consumers purchase more from retailers that use their interests and purchase behavior to personalize their experience. That's why merchants are turning to new tools this season for an extra helping hand to personalize offers to customer segments based on purchase behaviors. Small business owners are also using smart tools to monitor and manage the distribution of coupon codes, minimize discount code abuse and drive annual sales.
Making your coupon codes unique and targeted, enticing shoppers to return with great promotions they can't miss, and adding a sense of urgency to act quickly are just three way retailers are leveraging coupon codes this holiday season to enhance their promotional marketing efforts and increase sales.
If you aren't using coupon codes this holiday season, don't delay.