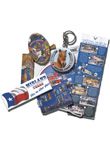 Kalan LP is a family-owned and operated business. Their mission is to bring cutting edge ideas and designs to the souvenir, gift, and novelty markets. Kalan distributes to chain and independent retailers across North America, including specialty products for retailers throughout the United States. Andrew Kalan, of Kalan LP says, "With over 30 years of brand licensing, we assure that our clients are on the top of the latest pop-culture trends. Kalan takes pride in providing customized service and creative product design within a rapidly changing industry."
Recently, Kalan LP acquired What's the Big Idea (WTBI). WTBI is the largest domestic picture magnet manufacturing company in the United States with over 29,000 US, Canadian, and Caribbean souvenir images manufactured into over 140 different products. Andrew Kalan explains, "We started talking near the beginning of 2016. WTBI owners Jeff and Judi were looking to retire, and a mutual supplier put us in touch." The official sale was completed late August, and Kalan immediately took over the production of WTBI products. "Right now continuity is very important to us," continues Kalan. "We are working on getting orders out faster than ever and we're looking to exceed customer expectations. Acquisitions aren't always viewed positively, so we want to make sure everyone stays happy." WTBI is well known for their magnetic products including refrigerator magnets, dye cut magnets, pet magnets, souvenir and custom magnets for tourist spaces. "One of their niches was accommodating small custom batches. Right now we are not looking to change that," says Kalan.
In addition to the WTBI acquisition, Kalan LP has developed an exclusive partnership with National Design, which manufactures stationary, coloring, craft, and kids items including licensed products. "They are looking to expand further into the souvenir market, so we have signed on as the exclusive distributor for these products," says Kalan.
Kalan LP has been able to grow their business and work smoothly through acquisitions and partnerships due to their 40 years of experience, and their incredible in-house staff. "We have experience with in-house manufacturing, made in the USA products, short run items, custom orders, drop shipping and more," explains Kalan. "Now we're focusing on moving further into the souvenir space with a lot of our same products. We're taking our novelty and humor products and expanding into site-specific and souvenir lines."
How to Order
Kalan LP works with each retailer individually. Their goal is to find solutions that meet every customer's specific needs. "When it comes to our native market, trends and novelty, we know what sells well," says Kalan. "We can do planograms for customers." For souvenir and resort customers, "We have many different products we can manufacture. We can walk retailers through the process of having them send us art, or we'll show them our art, and then we'll walk them through our product lines."
Wholesale orders have a $100 minimum. Retailers can also opt-in to Kalan LP's newsletter at checkout, which offers exclusive coupons and product announcements. For more information, visit www.KalanLP.com.