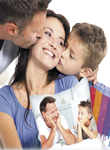 As the name implies, if you can "vision it," chances are Just Vision It can create it. Just Vision specializes in custom sublimated products. Using cutting-edge printing technology, the company can print fabric with just about any design or photograph a client could imagine. The resulting prints are high-quality, affordable to purchase in small quantities, and can be turned around very fast.
"We can dye any image into fabric," says John Whitt, COO. "We're on-demand printing in the fabric and textile market. With our technology, you can decorate anything you want for any specific use." Although the potential applications of this technology are virtually limitless, Just Vision is currently focusing on three specific markets:
1. Custom home décor, including comforters, duvets, shower curtains, towels, plush rugs, and other home goods.
2. Sports apparel, with a strong focus on custom jerseys for sports teams, and a full women's apparel line. Jerseys are made from moisture-wicking fabric that is fabricated in the United States, so the products are 100% American made and manufactured.
3. Trade shows, including booth signage and branding assets.
The process for wholesalers is easy. "We have templates we offer wholesalers, so it's mostly automated," Whitt says. "You simply upload your image to the website and we make the product and send to your customer." There are currently more than 100 available products, ranging from bags to tank tops, and endless variety within those products.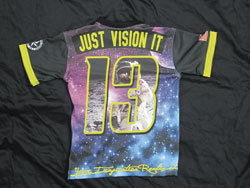 In sport jerseys, for example, designs go far beyond the simple "name and number" of most jerseys. Just Vision It's technology allows teams to print jerseys with team photos, sponsor logos, and very detailed color graphics.
The company also offers private labeling to its customers. Private-labeled products are delivered with the retail customer's logo and branding, making Just Vision It's role invisible to end consumers. "We are basically like having your own factory," John says. "Instead of going overseas, we can handle it for you." Because Just Vision It's entire production process is US-based, the company offers very rapid turnaround. Most products can be manufactured within 3–5 days.
Wholesale Ordering
With its system of automated, online templates, ordering and pricing is surprisingly easy for a custom-printed product. Wholesale customers can set up an account on the website. There are no minimum orders and products can be directly drop-shipped to your customers with your branding within days.
There are three wholesale pricing tiers, depending on the fabric, complexity, and product. In general, retailers can expect a 100% mark-up on most products. Because it's possible to do very small lots of custom-printed items, the process is perfect for small to medium companies.