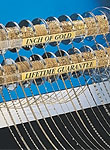 Inch of Gold Inc. is a wholesale supplier of fashion jewelry chains that retailers sell by the inch, and has been specializing in this model for more than 30 years. "Our concept works," states Bill Kretschmar, partner and VP of sales. "Consumers want chains made to specific lengths. They do not want to be relegated to cookie cutter sizes." Fashion jewelry is a huge business, he adds. "Not everyone can go out and buy a real diamond or a solid gold chain. Fashion jewelry has gotten more popular because fine jewelry is so expensive. While a consumer might buy a bracelet made of our chain for $10, in solid gold that same bracelet would be $150 to $200, even at today's lower gold prices."
Affordably priced chains look like fine jewelry
Inch of Gold's fashion chains include 18k gold layered chains, sterling silver layered chains, crystal chains containing genuine Austrian crystals, and stainless steel chains. The company has a vast array of styles designed for men, women and children, as well as findings, or clasps. All chains have the look and feel of their fine jewelry counterparts. The18k gold layered chain, for example, is 18k gold on the outside and brass on the inside, which gives it a solid weight. "If you saw someone wearing our chain, you would think it was real gold," Kretschmar notes. "It is really beautiful."
"If you saw someone wearing our chain, you would think it was real gold… It is really beautiful."

Bill Kretschmar
Inch of Gold includes a free lifetime warranty on all products. "We will repair or replace the chains for life, if needed. Even if a customer loses the paperwork, even if it is years down the road, if it does not look like it did the day they bought it, we will send them a new chain."
Ordering highlights
Retail ranges from $1-$4 per inch, with most chain prices around $1-$2 per inch. Markup is around five times the wholesale price, which is from $.20-$1 per inch. The minimum opening order is one display case, the smallest of which holds 12 spools. Retailers can choose which product designs they would like to include in a display, or they can purchase a "Best Seller" kit, which is a combination of the most popular designs of the day. Purchases include tools to assemble the chains, signage, DVDs, training videos and consumer guarantees. There is no minimum reorder.
"Everything is in stock, and if a dealer places an order by 2:30 EST, it goes out the same day," Kretschmar reports. "We are dedicated to our customers, and when you call here, a real person answers the phone every time. We are here to help our customers build their businesses."
Visit Inch of Gold at ASD Las Vegas, August 4-7, at booth C1771. The company will be offering show specials, including free displays, free shipping and 10 percent off orders written at the show.
Where to buy:
Inch of Gold Inc.
3975 Investment Lane
West Palm Beach, FL 33404
Toll Free: 800-854-3434
Tel. / INTL: 561-842-5572
Website: www.inchofgold.com