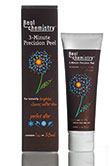 The Real Chemistry 3-Minute Precision Peel from BluDahlia treats acne, eczema, fine lines, wrinkles and dark spots. It gently exfoliates the face and décolletage, leaving skin radiant and velvety soft. Made in the USA, the peel is different than other skincare products because it is a pH neutral protein peel that does not contain acid. "This is the first peel that someone with sensitive skin can use reliably, and not have any sting, burn or itch. There is absolutely no irritation," stresses Karen Griffin, owner and general manager of BluDahlia. "Our peel is chemically engineered to bind with protein on the skin's surface, to gently lift away all the dead cells. Around 50 cellular layers of large molecule protein are removed almost instantly."
Prior to launching BluDahlia, Griffin was in healthcare for 22 years. "I was working for a division of Bristol-Myers Squibb that manufactured skin burn and wound care products. Through my research of cutting edge ingredients, I came across this product. Because it is more of a cosmetic preparation, it did not appeal to the company, so I bought it for myself."
National marketing exposure and endorsements
Brought to market in October 2012, the Real Chemistry 3-Minute Precision Peel has already received national exposure on ABC and NBC news. The product is sold on OpenSky, whose brands are handpicked and reviewed by the site's insiders and experts. Molly Sims, OpenSky insider, actress and model, has personally endorsed the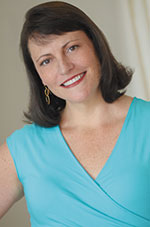 peel. "She picked up our product and is endorsing it at no charge," Griffin points out. The company is targeting major department stores as well as specialty and skincare shops to sell the product. To assist merchants, BluDahlia provides point of purchase materials, Skype training and in-store education.
The Real Chemistry 3-Minute Precision Peel is the only American made protein peel. Although France and Japan export protein peels, they are very expensive and cost hundreds of dollars per bottle. "We are an innovative product company, and are committed to providing solutions to skincare problems at affordable prices," Griffin notes. The Real Chemistry 3-Minute Precision Peel retails for $48 for a one-ounce tube, which contains eight to ten peels. The wholesale discount is based on volume, and ranges from 40 to 70 percent. BluDahlia also offers distributor pricing, which starts at 10,000 units per year.
In spring 2014, BluDahlia will introduce a firming anti-oxidant reparative serum and mask system. The serum combines a powerful antioxidant that scavenges free radical damage with a unique ingredient to eliminate tiny red lines from broken capillaries.
Ordering highlights
The minimum order is generally 40 cases, and each case holds 16 tubes. BluDahlia is flexible, however, and will consider accepting smaller orders. Products ship from the company's warehouse in Michigan, and arrive at most U.S. destinations within three to five business days.
BluDahlia will be exhibiting at ASD in Las Vegas, August 4-7, at booth C1189. The company will be offering free domestic shipping on orders written at the show.
Where to buy:
BluDahlia LLC
Nashville, TN 37027
Tel.: 615-557-2665
www.myrealchemistry.com