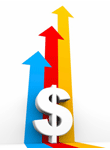 While any retailer's ultimate goal is to sell, there are other strategic initiatives that need to be set and met first in order to attain a result of profitability. Retailers are well advised to perform a thorough evaluation of their business and its success in past years as they refocus their top priorities for a new selling year. "Though customers are always a company's top priority, customer satisfaction will get a huge facelift this year," says  NRF President and CEO, Matthew Shay, after seeing the results of the Benchmarks for 2011, Forecasts for 2012 report sponsored by NRF, KPMG LLP, and Retail Horizons. According to the survey, nearly 67 percent of companies rank customer satisfaction as the top strategic initiative for 2012, along with 82 percent that say customer service strategies will be a top priority in the coming year.
Retailers Review Tactics and Selling Channels
What does this mean exactly? According to survey results, retailers, whether they are independents, big box stores or ecommerce operators, have to come to terms that online channels continue to be a top consumer choice for researching, browsing and purchasing products. As the NRF reports, "For the first time in the survey's ten-year history, retailers' websites and online channels eclipsed physical stores as the top channel for marketers (81 percent for brick and mortar vs. 86 percent online)." Whether you run a brick and mortar or not, does not absolve you from having an online presence in today's shopping culture.
And as such, retail executives say they will invest in programs that directly resonate with today's shopper. Of the 247 retail executives from various sectors surveyed, 85 percent (up from 83 percent in 2011) plan on increasing online sales and 38 percent (up from 29 percent in 2011) plan on increasing their focus on mobile commerce. Aiming to grow customer interaction, 45 percent of companies are actively developing widgets, gadgets or advanced links that can be incorporated with their social media pages, while 43 percent plan to do so over the next 18 months.
Other top priorities of 2012 as indicated by the survey include:
Nine in 10 respondents said they will focus on leadership assessment, development and succession.
Nearly six in 10 say new customer acquisition is their top strategic priority for 2012.
This article has been adapted from an original report on NRF.com. Click here to read more results from the Retail Horizons report.
Other NRF surveys and sponsored reports can be read about under our Industry Headlines category.