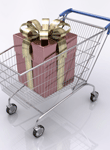 After a not so fantastic beginning to the fall season with back to school shopping sales slow, and students returning to class with last year's supplies, the holiday season is the last remaining hope for retailers looking to boost their bottom lines. A recent NRF consumer survey reveals that more than 37 percent of shoppers plan to have some holiday shopping completed before Halloween has come and gone, and as a result retailers are happy to oblige in anyway they can to have a part of the estimated $450 billion in holiday spending.  In fact, chain stores and independent brick and mortars have begun to implement new promotional initiatives such as paid shipping and layaway programs to help ensure they'll be seeing some Christmas cash and happy holiday customers.
Early Holiday Shopping Forecasts Bleak
Yet the first forecasts of the anticipated shopping season bring little cheer to retailers. The Wall Street Journal reports, "ShopperTrak, which counts foot traffic at malls and blends it with economic data to predict trends, says in a new forecast that national retail sales will rise by just 3 percent during November and December, less than last year's 4.1 percent gain, essentially just keeping up with inflation." Stricken with economic turmoil, increasing gas prices, and tight budgets, most U.S. consumers continue to resist retailer efforts to make sales. And while sale expectations were high at the start of 2011, with a continual increase in profits during the first quarter, consumers are clear in their response to holiday promotions. They'd rather keep the cash than spend the cash. The Wall Street Journal illustrates other examples to back up ShopperTrak's findings, reporting that, "A survey of 1,000 U.S. consumers conducted by consultant AlixPartners LLP in September found that 41 percent planned on spending less on holiday shopping this year, up from the 31 percent of respondents who answered that way a year ago." And as a result, retailers may be faced with price cuts and excess inventory, all of which will continue to challenge retailers' bottom lines.
To read more early forecasts on the holiday season, click HERE.