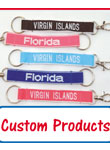 Whether shopping for apparel or sneakers, buyers seek out products that are tailored to their needs. Personalized shirts and iPhone cases are two of the most searched for products on Google, and a growing number of manufacturers are offering the option to modify existing products online. For independent retailers looking to increase sales, customized merchandise is one way to boost profits.
Joe Pirrucello, general manager of The Name People, shares his insights on why these types of products are such hot sellers. "Consumers are drawn to things they can connect with," he explains, "and the first thing many people connect with is their name. When customers see a product with their name on it, they establish an immediate relationship with that item." Based in Portland, ME, The Name People is currently focusing on personalized pens and lanyard key chains, offering 384 names and sayings in both English and Spanish, in a rainbow of colors. When ordering, retailers receive three pieces of each name or saying. The same selection of names and sayings is also available for all other inventory items, which may be either embroidered or custom printed. "Products such as these have proven to be recession proof," Pirrucello points out.
The average retail price for The Name People's products is $1.99, with wholesale pricing available upon request and no minimum order. The firm also carries several types of displays. Special deals and discounts are often available, and for the ASD show in Las Vegas, The Name People is offering a deal on personalized ribbons, priced at $1 each. The company will be exhibiting at booth SL1113.
"We like to refer to our personalized products as having 'the best brand on the market,'" comments Ross Johns, director of sales and marketing at LaserGifts, a souvenir and novelty company. Most of LaserGifts' products are wooden, with custom laser engravings, and this year the company ventured into 3D lenticular designs. These images are similar to holograms in that they appear to move, but are clearer and brighter than typical hologram stickers. LaserGifts is looking into carrying more 3D lenticular products in the future. One of its most successful products to date is its solar powered key ring. "We have many requests for these, with a lenticular image of a tourist destination on one side, and the name of the consumer flashing on the other," says Johns. "Those do particularly well in souvenir shops." LaserGifts' multipurpose tool, available in several sizes and finishes, is making strong sales this year, as well. The tool features a knife, nail file and small pair of scissors that fold together when not in use. The wholesale price is $1.04, and retail can be three times cost. The minimum order is $150 for this product, and price breaks begin at $250. The display is free with an order of 144 personalized pieces, which wholesale for $.90 to $1.50, and retail for $4.99.
The challenge in selling name products is getting as many varieties as possible in front of customers, and LaserGifts offers customized displays. "We have a patent pending on one of the hook sets we offer," Johns reveals. "We feel that it's an outstanding merchandising product." LaserGifts items retail for $5.99 to $12.99, and wholesale for $1.60 and up. The minimum order is $150 on most items, with a few exceptions noted on the company's website. LaserGifts guarantees sales on some of its personalized products. After an average of 90 days, if customers haven't sold a set merchandise quota, the firm will make up the difference of the product and display costs. With personalized products, however, this backup plan is rarely necessary. For a closer look at the merchandise, retailers can find LaserGifts at a number of trade shows throughout the year.

Another desirable personalized item this year is jewelry, and Monster Trendz has built up a selection of pieces to meet this need. Rather than approach personalized gifts by starting with names and looking for compatible products, Monster Trendz CEO, Matt Huusko, uses his background in unique jewelry to determine how to personalize the items he already knows sell successfully. "Our hand painted name drop jewelry and key chains, especially, have been selling very quickly," reveals Huusko. These items feature the name of any location, along with a floral or animal design painted on a piece of coconut shell, which is then beaded onto a macramé band. Monster Trendz offers 192 names to choose from, plus 16 "wild cards" for parents and other relations. The products also are available with an "I heart" theme that can be ordered for any name or place.
"Personalized items tend to have a high turnover, and the displays often need frequent restocking," Huusko points out. "Because of this, we've created completely custom displays with labels for each name on its corresponding peg." For its name drop bracelets, Monster Trendz has a custom countertop display that holds 36 bracelets. The display is available for free with an order of 300 personalized pieces, which range from $.90 to $1.50, and can retail for $4.99.
Customization options are key to selling nearly any item, and gifts and souvenirs are no exception. As consumers continue to tailor products, retail sales will reflect this trend.
For more information:
The Name People
151 Walton Street
Portland, ME 04103
Tel.: 207-878-1313
Website: www.thenamepeopleusa.com
LaserGifts
P.O. Box 10035
Prescott, AZ 86304
Toll free: 888-674-6612
Tel.: 928-776-4430
Website: www.lasernation.com
Monster Trendz Inc.
One Washington Street #5017, 5th Floor
Dover, NH 03820
Toll free: 866-365-6425
Website: www.monstertrendz.com