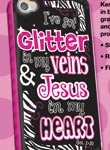 Bold graphics, loud colors and strong patterns, along with glitter, green and a bit of whimsy, are the hallmark of popular gift items this season. Big hits include products with inspirational messaging and artisan crafted badges, buttons and wallets. One innovative wholesaler creating merchandise with meaning is Kerusso Apparel & Gifts. "We take things that are trending now, like glitter, coffee, flip-flops and zebra prints, and we develop fun products and phrases to go with them," explains Lorri Carter, VP of Creative Development at Kerusso. The company recently introduced Cherished Girl, a line of humorous tees and coordinating accessories.
Cherished Girl tee shirts have amusing sayings on the back and a little decoration on the front, and are based on a look that began in college sororities in the South, Carter explains. The company, which carries Christian and inspirational products, launched its Cherished Girl line in September 2012 with bright, bold tees that tout 12 witty sayings. About fun and friendship, the shirts proclaim such mottos as, "Come As You Are, Flip Flops and All," and, "I've Got Glitter in My Veins and Jesus in My Heart." "We conducted focus groups with women of all ages," Carter continues, "and we found that not only do women want to buy multiples of the shirts, they are popular year round. Women want clothing that is about more than just decoration."
MSRP for a Cherished Girl tee shirt is generally $15.99 to $19.99, and wholesale prices vary, depending on volume and sales program. In addition to tee shirts, the Cherished Girl line comprises complementary iPhone covers, tumblers, refrigerator magnets, luggage tags, nail files, baseball caps and more. Wholesale prices range from $1 to $12 per accessory. To help merchants make a statement with Cherished Girl, the company has created a bright pink, five-foot tall lighthouse display system. On a rotating base, the unit has cubbies for folded tee shirts as well as areas to display the graphics and sayings. The stand is designed so the gift accessories can be hung on its sides. The Cherished Girl display, with merchandise, wholesales for $1,750 to $2,000, and the products included with the system retail for around $4,000.
Kerusso is celebrating its 25th year in business, and to mark the event the company has published a book based on its tag line, "Change Your Shirt. Change the World!" "It's a neat little book," Carter remarks, "and features 25 devotions from bestselling artists and authors, including Max Lucado, Michelle Duggar and Stephen Baldwin. Interspersed with these are the history of how Kerusso came to be, and stories of people who wear our shirts. Some are really touching." Proceeds from the book, which retails for $14.99, go to Compassion International, a child sponsorship organization. Inspirational products account for more than $4 billion in annual retail sales, and 77 percent of Americans identify themselves as Christian. As a result, Christian products are popular with secular retail shops and consumers alike. "Our shirts have messages of hope and love," Carter stresses, "and when you wear one of them, you have opportunities to share these affirming messages with other people."
Like te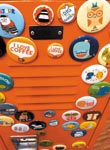 e shirts, badges and magnets that share original messaging are also big sellers this year, and The New York International Gift Fair (NYIGF) hosted an array of suppliers of this merchandise in January. Badge Bomb, for example, exhibited an attractive and colorful display of pins, including "I Love Coffee" and "I Buy Local." One of the company's newest boxes of buttons is "Say What," designed by Seltzer, which puts forth such sayings as "Mind of My Own" and "I Don't Try. It Just Happens." The "Tree Hugger" collection, another new line designed by Suzy Ultman, includes the artist's playful renditions of several plants and animals, some with sentiments such as "Peace," "Hug" and "Sweet." Each assortment is sold in boxes of 200 one-inch buttons. Both lines sold very well at the NYIGF, and have been popular sellers outside the show as well, according to Scott Hay, company owner. Cute animals always sell well, he adds, along with pattern magnets which come in houndstooth and checkered designs.
"We make all of our products in Portland, Oregon, and work with about 30 different illustrators to help us design buttons we love, and that people will want to buy," Hay remarks. "We wanted to make something that was easy for our customers to retail, profitable for the artists and lucrative for the shops." Retail pricing is $1.50 per button, $4 for a large individual magnet, and $10 for a pack of four round magnets. Retailers can call the company for information on wholesale ordering, or set up an account on the company's website.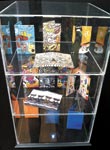 In addition to fun and moving messaging, eco-friendly gifts continue to gain popularity, and wallets introduced at the NYIGF follow this trend as well, along with consumers' attraction to wild prints and bright colors. Tyvek artists wallets from Paperwallet are thin, expandable, tear-resistant, water proof and long lasting. "A few of us in the company were running around Europe connecting with different artists," recalls Gilli Cherrin, product designer. "There's so much creativity in public spaces there, from graffiti to event flyers, but there was no real way for artists to pay their rent through that sort of project. We wanted to create a platform for artists to get their names out."
The firm produces wallets made of a recyclable plastic material, with two credit card slots, two business card flaps, two side pockets and a cash compartment. They are offered in bright solid hues such as yellow, green, red, pink, purple and blue, as well as bold abstract patterns, and a collection of unique concrete designs that make a statement in anyone's pocket or purse. "Each wallet is made in very limited runs, and we prefer to work with independent boutiques and stores that can showcase this kind of work," Cherrin continues. "Project designers spread the word about their pieces, which helps drive people to stores to buy the wallets. The customer response has been incredible. They love how each wallet is kitted with an artist card, and a lot of our designs are already selling out." Available in two sizes, cardholder and full size, the wallets retail for $14.95 and $19.95. Paperwallet is now taking applications for its affiliate program, whereby stores make 15 percent of each wallet sold.
Today's gift consumer wants to make a personal statement, whether it is through an inspirational message on a tee shirt, original artwork on a button, or buying environmentally friendly products. Retailers who capitalize on buyers' passion for bright colors, animal prints and original designs, along with their desire to be eco-friendly, are sure to please their customers and become a little more green themselves.
For more information:
Kerusso Apparel & Gifts
402 Hwy 62 Spur
Berryville, AR 72616
Toll free: 800-424-0943
Tel.: 870-423-6242
Website: www.kerusso.com
Badge Bomb
4016 SE Division St., Suite A
Portland, OR 97202
Tel.: 866-592-2343
Website: www.badgebomb.com
Paperwallet
16 Longview Ave.
Valley Stream, NY 11581
Tel.: 516-874-4475
Website: www.paperwallet.com