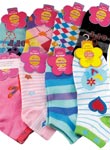 Socks Galore launched in 1989 as a family business, and has grown into one of the largest importers and wholesalers of socks in the Midwest. The company carries a full line of hosiery, including tights, trouser and dress socks, pantyhose, diabetic socks for men and women, athletic socks and licensed Disney character socks, as well as underwear, flip-flops, work gloves and basic apparel. Stocking a variety of this high margin, attention-grabbing merchandise helps to improve a retailer's bottom line.
"People like fun designs, and even if they don't need socks, if they see something they like and the price is right, they'll buy it," says Chris Toma, owner of Socks Galore. "For spring, the no show socks will be popular. Ladies print socks, and socks in neon and bright colors will also be hot." Toma stresses that socks are an impulse buy, and they sell well in all stores, including clothing, grocery, discount, hardware, greeting card and flower, as well as mall kiosks. In addition, gardening gloves sell well in the spring, Toma notes. "We have a full line of working gardening gloves that wholesale for $.39 to $.75, and retail for $2 to $5."
"Variety gets the purchase, but quality builds customer loyalty," Toma adds. "We are dedicated to delivering customers the very best quality, prices and service. If we don't hear from one of our customers every 45 to 60 days, we reach out either by phone or email and make them aware of what we will have in stock for the upcoming season. We'll also send a list of closeout shipments, which they will be able to access on a first come, first serve basis."
Most of Socks Galore's merchandise wholesales for $.25 to $2, and items at the higher end can retail for $10, with some items selling for $20. Prices are based on average case packs of 120 or 240 pieces. There is no minimum order, and bulk discounts are available when customers order by the larger case. For point of purchase displays, the company offers a box and a metal rack. These are especially useful to make the products visible in retail settings where customers aren't going in with the intent to buy socks, Toma points out.
Socks Galore will be exhibiting at booth SU2524 at the ASD Show in Las Vegas, March 17-20. Show specials will include baseball fitted caps in spring colors such as lime green, sky blue and pink, which will wholesale at ASD for $.39, and can retail for $3 to $5. In addition, the company will be selling Disney character 3, 4 and 6-packs of socks (a Kmart buyback) for $1 each, with a retail price of $6.99 printed on the packages.
For more information:
Socks Galore
10355 Capital Ave.
Oak Park, MI 48237
Tel.: 248-556-4778
Website: www.socksgalorews.com