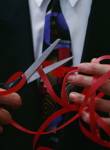 Senior VP of the National Federation of Independent Business (NFIB), Susan Eckerly, recently released an open letter on behalf of the organization, advocating the Red Tape Reduction and Small Business Job Creation Act. The NFIB recognizes this legislation as a source of relief from regulations placed on small businesses, hindering the creation of jobs. The Act would ultimately allow for, "more transparency in agency settlements and streamline the federal permitting process." Eckerly urges the House of Representatives to pass this reform legislation by pointing out the issues presently faced by small business owners.
"A recent study released by the U.S. Small Business Administration estimates that the cost of regulatory compliance for the smallest businesses is $10,585 per employee per year, 36 percent more than their larger counterparts," Eckerly writes. "Additionally, NFIB's monthly Small Business Economic Trends report consistently shows government requirements and red tape to be among the single most important problems facing small business owners. This important provision would prevent regulations that have not been properly analyzed and open for public vetting. NFIB believes that it is critical that the regulatory process not be bypassed in order to issue rules in the waning days of an administration's term. Uncertainty is one of the top concerns of small business owners. Last minute rules by an outgoing administration could present a regulatory nightmare.
"In addition, the regulatory freeze provision, which would place a moratorium on finalizing major regulations until the unemployment rate reaches six percent, has considerable support among NFIB's membership. In a recent ballot of our members, 78 percent believe Congress should pass legislation placing a moratorium on new regulations. This provision would provide certainty to small business owners that no new major government mandates will be placed on their businesses. Importantly, it would allow agencies to continue the notice and comment process at the heart of rulemaking. This allows small businesses the ability to engage agencies and provide input as to how agencies can meet their goals, while at the same time providing flexibility for small businesses. The provision also includes common sense exemptions for rules, including those addressing imminent health and safety threats, national security and the enforcement of criminal laws."
The full NFIB letter and further information about the nation's leading small business advocacy organization is available on the NFIB website.