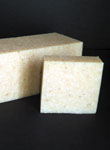 While a creamy dollop of Greek yogurt may be a snack to some, to Jeff "The Soap Guy" Dorrian, it's a secret ingredient for his newest product, Greek Yogurt Soap. "In the fall of 2002 we started making all natural, triple scented soy candles for fall fairs and Christmas bazaars," Dorrian explains. "They were such a hit we decided to start to sell them to retailers, and directly to the public on our website. One of our customers liked them so much, she asked if we could make all natural soaps to go along with the candles. After much research and plenty of tinkering with recipes, we developed an all natural soap recipe that is too good to be true." The Greek Yogurt formula is the latest and greatest of The Soap Guy's concoctions, which results in a luxurious bar that leaves skin moisturized and cleansed.
Just as important as the ingredients that go into the recipe are the ingredients Dorrian leaves out, including parabens and sulfates. Following research conducted by the Centers for Disease Control and Prevention (of these common soap ingredients), there has been a stir in the personal care product industry. Parabens, which are the most widely used preservative in these products, have been found to disrupt the endocrine system, whereas lauryl sulfates have been found to be an irritant offensive enough to prompt change in major brands such as Suave. Once a niche market for those with allergies or sensitive skin, the soap industry is now seeing a great demand for pure, natural formulas. For the Soap Guy, the timing of this research couldn't be better coordinated with his Greek Yogurt Soaps, available in natural fragrances including Tropical Garden, Cucumber Lime and Sweet Almond.
Every bar is made by hand to ensure the highest quality of each batch. Dorrian's goal is to make handmade products available to the general public for a reasonable price. His attention to detail and passion for his work does not go unnoticed, as he attributes most of his business growth to word of mouth recommendations. Soaps are sold individually or by the loaf. One loaf is nearly three pounds in weight, and can be cut easily to yield 10 bars. Loaves are offered for $21 each, and the website offers a "buy four, get the fifth free" deal, with free shipping included. The bulk deal currently being offered features 20 discounted 22 ounce loaves for $99, again with free shipping. Greek Yogurt Soaps retail for $5 to $8, and individual bars wholesale for $1.80 each. There are a number of bulk deals available, including fragrances that have gone on clearance, and a daily bargain on the website that always offers a fresh savings opportunity.
For more information:
The Soap Guy
717 Sheridan Ave.
Michigan City, IN 46360
Tel.: 312-320-5862
Website: www.thesoapguy.com