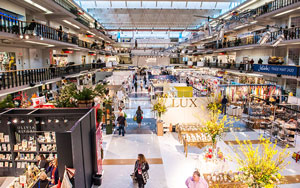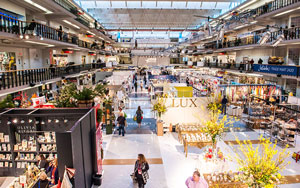 Dallas Market Center, located in Dallas,Texas, is a 5,000,000 square foot wholesale trade center housing showrooms which sell consumer products including gifts, lighting, home décor, apparel, fashion accessories, shoes, tabletop/housewares, gourmet, floral, holiday, and more. The marketplace is open to qualified retail buyers and interior designers, manufacturers, and industry professionals. Market events throughout the year attract more than 200,000 buyers and sellers from all 50 states and more than 80 countries.
Upcoming Market Events:
Dallas Apparel & Accessories Market – June 5 – 8 & August 21 – 24, 2019
The Dallas Apparel & Accessories Market exhibits apparel and accessories in numerous categories. In addition to the permanent apparel showrooms inside FashionCenterDallas®, uncover a wide range of temporary exhibitors in SCENE. Peruse the juried temporary show on the 13th floor of the World Trade Center, the STRUT–Dallas Shoes Show, plus temporaries.
Dallas Total Home & Gift Market – June 19 – 25, 2019
Total Home & Gift Market is the premier destination for connecting retailers and manufacturers in home décor, gifts, gourmet, housewares, accessories and lighting. Dallas not only delivers more, but more of what matters. In addition to permanent showrooms, The Temps provide hundreds of additional unique resources across all product categories.
The Temps at Total Home & Gift Market – June 19 – 23, 2019
Immerse yourself in the shopping experience within The Temps at Total Home & Gift Market. Featuring five distinct neighborhoods, finding new lines and unique products has never been so easy — or so fun. Plus, great incentives and promotions are available just for shopping with your favorite Temp exhibitors. Discover why buyers from across the country and beyond keep coming back to source The Temps in Dallas. Gift Temps, Women's Accessories and Apparel Temps, and the Temps sections in Market Hall are open June 20-23. Luxe Gift Temps and Home & Design Temps are open June 19-23.
Dallas Mens Show – July 27 – 29, 2019
The Dallas Men's Show is a boutique trade show, offering a curated selection of the most sought-after traditional and contemporary men's apparel, accessories, and footwear lines. From button downs and ties to t-shirts and pullovers – the Dallas Men's Show has it all.
Dallas Western Market – August 21 – 24, 2019
*Coincides with Apparel & Accessories Market
Dallas Western Market features western lifestyle inspired apparel, footwear, and accessories for men, women and children inside permanent showrooms and temporary booths. Appealing to traditional retailers and contemporary taste-makers, the Dallas marketplace showcases heritage styles and modern edge looks. Join us and see all the best-selling trends from leading manufacturers.
The Dallas Market Center is only open to registered buyers. Save time by registering in advance on their website. There you can also view a complete exhibitor list, tips for placing orders with DMC exhibitors, and book travel accommodations at discounted rates. Visit www.DallasMarketCenter.com to learn more.