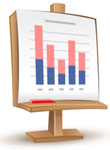 Black Friday and Cyber Monday are just about here, and it's important for retailers to be ready, not only with enough product and personnel, but with the right customer data gathering tools in place. Here are a few key components retailers need to successfully establish and maintain a profitable retail holiday season, according to Feras Alhlou, co-founder and principal consultant at E-Nor, a web analytics and digital marketing optimization consulting firm.
1. Measure what matters.
There is plenty of data out there, coming at you from all directions. Rather than trying to capture as much data as you can, save your sanity by measuring only what matters. If "Widget A" is your moneymaker this year, be sure to focus your measurement efforts around capturing as much information on it as possible. Are the majority of clicks to "Widget A" happening in the evening? Are your customers spending just over one minute looking at product specs, and then bouncing to a competitor's site to compare? These are just some examples of data that can be gathered and analyzed when you narrow down what data is important to your bottom line. Looking at your online presence, if e-commerce metrics, such as sales from repeat customers or average order value, are also important to you, build custom reports geared towards these types of data.
2. Establish and automate reports.
Once you've determined which metrics you want to monitor, derive insights as efficiently as possible. Manage this data by setting up detections for when a significant change occurs, such as a dramatic increase in visits to the page featuring "Widget A." Google Analytics has "Intelligence Alerts," a tool that automatically flags both issues and positive trends, and brings them to your attention. Now that your reports are available, utilize them to the fullest extent and automate daily. Choose a tool that automatically sends information directly to your inbox, dashboard or the cloud. Choose key performance indicators, set up your automatic reports and analyze the data as it comes in. This will save you time, and allow you to focus on other important duties.
3. Monitor multi-channel marketing efforts.
If you're like most retailers, you have digital campaigns composed of paid search, e-newsletters, social media, mobile, etc., working alongside traditional marketing such as print, outdoor, broadcast and so on. To determine which of these components are working for you, develop a system that tracks and monitors each of these mediums. Conversion rates and sales are what matters, and to get the big picture of how these conversions are made, you need to examine all touch points and interactions of your multi-channel marketing.
If you have been proactive and recently launched a responsive website design, new site or a mobile app, ensure you have mobile-targeted campaigns. Don't forget to monitor mobile reports for user retention, engagement and mobile conversion. If you didn't kick-off mobile initiatives in time for the holiday season, and the mobile experience on your site is going to be less than desirable for visitors, you may consider calls to action that drive mobile visitors to call and speak with a representative.
4. Get real-time results.
A great resource to utilize this busy holiday shopping season is the Google Analytics Real-Time tool, which monitors online visitor activity as it happens. This feature provides constantly updated website analytics as it occurs. On Cyber Monday, when your VIP customers are invited to purchase "Widget A" at a deeply discounted rate from 10 a.m. to 1 p.m. only, you have the ability to see things like traffic shifts and where visitors are coming from. Through Google Analytics Real-Time, you also have the ability to connect to current social media and blogs, so when tweeting or posting about a product that was just launched, you are able to monitor the effects of that correspondence almost immediately.