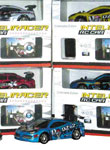 When it comes to satisfying a need for speed, Emirimage Corporation upshifts its innovation by several gears with its extensive line of remote control racecars, helicopters and boats. Never lacking in stylish detail, Emirimage products are made to look as sleek as their real life counterparts. With the company's latest electronic racecar, the Inteliracer RC Car, Emirimage pushes the limits of what is possible for toy cars, through a number of functional and aesthetic improvements. "Our latest racecar operates on a 2.4 gigahertz capacity, which means users experience less interference while playing with the toy," explains Eduardo Perl, company president.
On the firm's website, www.emirimage.com, the Inteliracer RC Car, listed as product number TOU-2412, is painted bright white with burnt yellow tiger stripes, and a vivid black and red racing graphic on the sides and hood. The car is available in eight styles and assorted colors, and slick rear spoilers complete the eye-catching exterior on all models. Strips of LED lights along the bottom of the car give it the appearance of having just driven off the set of the latest Blockbuster racing flick. Just as important as its exterior is the toy's functionality. In line with the rest of Emirimage's cutting edge items, the Inteliracer RC Car can be operated with a smartphone or tablet, integrated with a free app. Users can view a simulated track on the screen of their tablets, and drive the car with controls on their touchscreens.
A new feature with Inteliracer is motion sensitive technology, making the car's separate remote control function similar to the remote of a Wii game. By moving or spinning the control itself, as opposed to pressing buttons, the car will respond accordingly. "It is a unique function," Perl points out, "one which we are sure will be pleasing to our retailers and their customers." The Inteliracer RC Car is available for a wholesale price of $21.95, and ships in boxes of 24 pieces. Suggested retail is from $59 to $89. While there is no minimum order, the company does require all order quantities to be placed by the full box.
For more information:
Emirimage Corporation
5269 NW 161st Street
Hialeah, FL 33014
Toll Free: 877-858-4627
Tel.: 305-500-9860
Website: www.emirimage.com