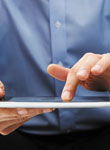 ShopKeep POS is a flexible point-of-sale solution that helps brick and mortar retailers manage inventory and customers, as well as make transactions, all from an iPad. The company's new iPhone app gives merchants real-time access to store data so they can make critical business decisions on the go. With the new ShopKeep POS dashboard app merchants can view real-time sales for each iPad POS (Point-of-Sale) register, a summary report of previous day sales, and other key metrics with a tap or a swipe of a finger. "Each and every platform update we offer is directly tied to customer feedback," says Jason Richelson, CEO and founder of ShopKeep POS. "Keeping consistently up to date on store sales is critical to understanding business successes and disappointments. ShopKeep POS is the only iPad POS system that offers merchants the ability to manage their stores from an iPhone or Android phone."
In addition to sales data, the ShopKeep POS Dashboard app gives business owners:
• The ability to remotely track and monitor returns in real-time, for more control of business performance.
• A way to see the cost of goods sold and gross margins, to track daily store earnings.
• A single sign on process for merchants with multiple stores, so that they can see real-time stats for all locations on a single screen.
The subscription based service includes unlimited seven days a week customer care by phone, email and online chat. The new dashboard app complements the ShopKeep iPad register and suite of inventory management and reporting tools that the company offers to more than 3,000 merchants across the country.