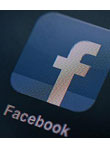 Facebook, with one billion users, is rolling out a new tool that will allow online retailers to track purchases by members of the social network who have viewed their ads. eRetailers will be able to use the tool to generate a unique bit of code to add to any page on their website where they want to measure conversions, for example. Advertisers will see the volume of customers, but not the names or profiles of Facebook members who make purchases. When marketers choose Optimized CPM bidding, Facebook's system will show ads to users who are most likely to convert. The new tool will allow conversion tracking for smaller advertisers who are using Facebook ads to drive online actions. It will be available via the self-serve Facebook ad platform.
Facebook tried implementing a conversion tracking tool in 2010, but ended the beta less than a year later. The difference now is said to be the combination of conversion measurement and Optimized CPM. Facebook began testing the Optimized CPM bidding option late last year. The feature allows advertisers to set their marketing goals, and then have Facebook's system automatically serve ads in a way that achieves those goals as efficiently as possible.
The tool is the latest in new advertising features Facebook is offering to convince marketers that steering advertising dollars to the company will payoff. Facebook's recently introduced "Collections" feature, with "Want" and "Collect" buttons for users to add products to wish lists on their Timelines, could be another opportunity for retailers.