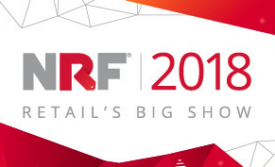 "Retail is not dead," declared Matthew Shay, president and CEO of the National Retail Federation, Sunday morning amidst indisputable evidence: the NRF 2018 Innovation Lab. The Innovation Lab is a gathering of top technologies shaping the future of retail. Last year, we met Pepper the Robot in the NRF Innovation Lab. This year, companies such as Zappar, Dor, and deepmagic, are demonstrating how augmented reality (AR), artificial intelligence (AI), and data collection can help retailers of all sizes better engage with customers. Throughout the NRF Show, retail executives, and innovators across the board shared top advice and insights. Here's what we learned:
James JC Curleigh, EVP and President at Levi Strauss & Co gave an early-morning physics lesson. He talked about the importance of turning "moments into momentum." According to the laws of Sir Issac Newton, retailers at rest tend to stay at rest- therefore accomplishing nothing.
To achieve meaningful momentum, James recommends "protect the core, expand for more." For Levi's, this, of course, means protecting their status as the number one name in denim. But as James said, denim only accounts for roughly five percent of the average person's closet. So, what other products do customers invest in, and which of those items go with a pair of Levi's? Turns out, socks, shoes, t-shirts,
and casual jackets. All retailers have a core product category or flagship design. But what else can you be doing?
Dan Levitan, co-founder and partner of venture capitalist firm Maveron, advises retailers that you have to "balance heart with brains." He continues, "brands that are all heart have no scale and brands that are all brains have no integration into customers' lives." You need products that resonate with customers emotionally and a smart business plan.
During the educational session entitled "Rockstar entrepreneurs and the next generation of retail," Marcia Kilgore, declared "transparency is the new cool." Marcia has founded and developed several brands including Bliss Spa, Soap & Glory, and most recently Beauty Pie. She described Beauty Pie as "the Netflix of luxury cosmetics." It is a membership-based beauty retail company that offers products without the middleman markups by sourcing directly from factories. She says luxury beauty shoppers are tired of paying 1000% markups, and Beauty Pie aims to fix that.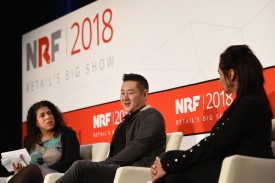 Not every retailer can offer products without middleman markups, but there are ways every retailer can be more transparent. Whether it's with your ingredients, where your products come from, or community impact. Honesty and transparency build trust, which is essential for today's consumers.
During an educational session on brand loyalty, Ellen Latham, founder of Orange Theory Fitness told retailers "you can't improve what you don't measure." In context, the quotes refer to heart rates and fitness levels but are equally applicable to retail. Having real-time accurate data is the only way to truly track your progress and make informed changes. Many of today's tech companies provide data capturing and analyzing solutions that are accessible to retailers of all sizes.
During the same educational session, David Oh, of FabFitFun said several times that their customers are not just numbers or data, but "they are people to us." David and all FabFitFun employees are active contributors on the community site and social media, regularly checking on and interacting with customers. "I check it before I go to bed and when I get up," said David.
The experience of each and every customer is important at FabFitFun. "If you have bad word of mouth, you're not going to survive." A major key to FabFitFun's explosive success over the past few years was their group of loyal brand advocates on social media. Especially for independent retailers, word of mouth can make or break your business. Being active, present, and genuinely connected with your customers will help turn them into raving fans.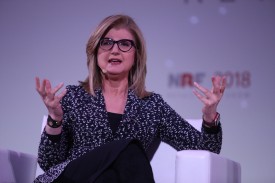 One of our New Year Retail Resolutions from the January issue was to "Take Time for Yourself." At NRF, we learned how to take better care of ourselves in order to be better business leaders from wellness champion Arianna Huffington. Arianna is the founder of The Huffington Post and founder of Thrive Global. She urges that this year, we should "go from knowing what you should do to doing it." For her, this starts with unplugging and recharging.
During the same educational session, titled "Transformational leadership: Women empowering change," we heard from Beth Comstock, former vice chair of General Electric. She advised that retail, among many business sectors, is in a period of vast and rapid change, in which companies large and small need to move quickly to keep up. "Transformation means you are never done," Beth said. "There was an entrepreneurial seed that started your company – why did we give that up along the way?"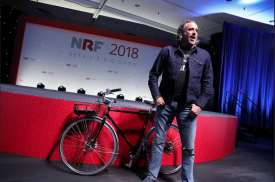 We'll round out our NRF 2018 recap with one last piece of advice from Levi's James Curleigh. Though technology is allowing retailers greater capabilities behind the scenes for capturing data and improving personalization, the customer experience should never feel complicated. Your business model needs to be a "business mullet: simple in the front and sophisticated in the back." Though much of the emerging technology can seem overwhelming or overly complex, the end goal is always to present a polished, simple, and easy interface for shoppers, whether in-store or online.

*All photos credited to the National Retail Federation