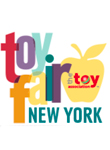 By Kristin Morency Goldman, The Toy Association
1. The Energy & Excitement
About 30,000 global attendees annually flock to the North American International Toy Fair, where they write orders, network, and get to see the hottest new toys and games at the largest toy show in the Western Hemisphere. For the first half of 2017, U.S. toy industry sales were up about three percent, and analysts are predicting another great sales year ahead, adding to the anticipation and excitement for Toy Fair '18.
2. Hundreds of Thousands of Toys & Games
Opening day of Toy Fair feels a lot like Christmas morning. Hundreds of thousands of innovative and classic playthings are showcased by about 1,000 U.S. and international exhibitors across a staggering 440,000+ net square feet of exhibit space. From collectibles and role play toys to board games and outdoor playthings, the Toy Fair playground has something for everyone.
3. Hot New Trends
Helping buyers and media hone in on the hottest new toys, The Toy Association's experts unveil the top toy trends of the year during a "Toy Trends Briefing" on day two of the show. The experts use product examples directly from the show floor to help illustrate the latest fads, which typically incorporate cutting edge technology, popular licenses and pop culture/lifestyle trends from around the world.
4. First-Time Exhibitors Offer a Fresh Take on Toys & Play
Toy Fair '18 will welcome approximately 100 first-time exhibitors who will bring the latest in innovation and creativity to the show. Buyers will be able to locate these new companies – and scout out their unique, never-before-seen playthings — in the Launch Pad section (Hall 1E).
5. Educational Opportunities Abound
From educational sessions on U.S. and international toy safety standards to seminars on global market research, licensing, specialty retail, toy invention, and more, enriching educational programs abound. Make the most out of your time at Toy Fair and plan to attend at least one of the many seminars offered — visit www.ToyFairNY.com for complete information.
6. After-Hours Networking
All work and no play? Not at Toy Fair! The show will host an International Welcome Reception on the first night of the show to help global buyers and other attendees forge new connections. Several other "just for fun" activities will take place throughout Toy Fair week – including the glamorous Toy of the Year Awards and the inspiring Women in Toys awards – so be sure to check the Toy Fair website for up-to-the-minute details.

7. Easy to Navigate
To the first-time visitor — and even show veterans — Toy Fair can seem overwhelming. Simply put, it's huge. But a variety of resources are in place to make the show easy to navigate — and to help buyers find exactly what they're looking for. The floor is divided into distinct product zones, including action figures, arts & crafts, infant & preschool, and outdoor play. The Toy Fair Mobile app – free on iTunes and Google Play — makes it even easier to find your way and learn about special events and activities taking place throughout the show.
8. ShopToys365
Speaking of simplifying the show-going experience, buyers can get a head-start on discovering new products and companies at the show with www.ShopToys365.com, the industry's premier e-commerce platform and a great tool for those who want to hit the ground running when they arrive in New York. ShopToys365.com allows retailers and toy companies to connect and conduct business transactions year-round in an efficient and engaging environment.
9. New York City
Toy Fair is held in one of the greatest cities on earth. The Big Apple is home to world-class restaurants, Broadway, iconic landmarks, museums, and so much more. It's walkable, even in winter, just be prepared with comfortable shoes and warm clothing.
10. The Whole Industry Comes Together for Four Days of Fun!
It's quite something to see the entire toy community come together at Toy Fair. You'll see large companies mentoring young inventors, booths filled with play-lovers testing out new toys, and unprecedented product launches that have the whole industry talking. Did you know that Tickle-Me-Elmo was first seen at Toy Fair? Who knows, you may see the next "it" toy this February — and you can tell your kids you saw it first at Toy Fair '18!