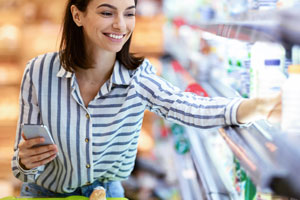 While many believed the pandemic would put the nail in brick-and-mortar's coffin, brands were quick to pivot and eagerly met their customers where they wanted to shop: online. With mandates continuing to lift nationwide and more folks venturing out in public again, retailers are perfecting phygital marketing that blends both the online and in-store experiences.
What is Phygital Marketing?
Physical retail has been around for way longer than the digital world, but with the large spike in ecommerce popularity, there are constant debates over which is better. Rather than choosing one over the other, many brands and experts are finding that they are both, in fact, very necessary in order for brands to survive and thrive. This is where phygital marketing comes into play: finding a seamless way for consumers to experience ecommerce and physical shopping.
"Think about it as the advantage that online and digital commerce have — the ability to target, connect data, and create specific customer profiles, which is not really possible in the physical world," Sharat Potharaju, Beaconstac CEO and Founder, said. "Phygital engagement is the idea of finding a way where interactions can collect data and build personas in the digital world so that you can target customers correctly. From a consumer standpoint, it is really important to connect these in an effective manner, which will help retailers and brands connect the physical to the digital world."
Reimagining the Physical Storefront
With faster trend cycles and increased interest in returning back to stores with COVID regulations easing, it is super important for retailers to stay connected with consumers and focus on how their physical and digital storefronts compliment one another. According to Jamie Gilpin, CMO at Sprout Social, Nordstrom and Bloomingdale's are prime examples of retailers who reimagined their physical storefronts.
"Each has created smaller format stores or pop-up shops in response to the trend taking off on social media, with Bloomingdale's latest rendition inspired by the hit period drama, Bridgerton. Similarly, Walmart doubled down on shoppable live stream events after seeing the demand and positive response from TikTok users, resulting in a 25 percent increase in their follower count. These examples underscore how insights from social media can help brands determine how to engage in viral conversations or maximize on trends before they crest. By leveraging social data to stay on top of consumers' interests, retailers can create customized and relevant experiences, both in-person and online, that will give them a strong, competitive advantage," Gilpin said.
Utilize Social Media for Phygital Marketing
Smaller, independent retailers often find themselves going up against large chain stores that have the funds to deploy the latest and greatest CX technology, but according to Elissa Quinby, Sr. Director of Retail Insights at Quantum Metric, these flashy tools are not always necessary to win over and retain their customers. For example, indie brands can use social media platforms to promote their business, gain brand exposure, and build a sense of community with shoppers that they may not have been as keen to before the pandemic. Brick-and-mortar retailers can also continue checkout trends that went from luxurious to essential during COVID, such as "buy-online-pickup-in-store" and curbside pickup options.
"Perfect Store Analytics"
Mars Inc. is using "Perfect Store Analytics," a proprietary intelligence tool that brings together the Shopper and Retail Lab, while also enabling Mars and retailers to understand shopper behavior. This program gives retailers the exact and actionable information needed to convert shoppers into sales. AiCi Li, the Director of the Shopper and Retail Lab at Mars, Inc., says the "Perfect Store Analytics" simply helps retailers to optimize the space they occupy. By using image recognition coupled with internal resources, it helps brands figure out what is actually driving consumers to convert, what products they are purchasing, how effectively the products are laid out, and where merchandise sits in the store — ultimately leading to better business decisions.
Boosting In-Person & Online Shopping Through Increased Search Functions
"While it is often overlooked, search functions are a core part of every customer experience," Giuseppe Miriello, Global Digital Director for Paul&Shark, said. "Customers should not have to sift through hundreds of product pages to find what they are looking for, or see products they like out of stock, or get frustrated trying to remember what to search to find what they are looking for. A positive CX which allows them to find products they want quickly and easily, plus the opportunity to personalize their browsing by showing them other products they may like, will ultimately build brand loyalty, raise brand reputation, and increase profits. The CX is all about ease and convenience, and the easier you make their experience, the more likely they are to confirm that purchase and return in the future."
At the end of the day, with all of this technology to help boost customer acquisition and brand recognition, it is critical that indie retailers not forget the main reason they are doing all of this: to make shoppers happy. "Business owners get so concerned with algorithms and optimizations that they forget that at the end of the day, they are selling to a regular customer," Bradley Sutton, Director of Customer Training and Chief Evangelist at Helium 10, said. "So my advice to sellers out there is not to forget that there are only two entities you have to make happy in your efforts: the algorithm on the marketplace you are selling on, and even more importantly, the end customer. Try to balance the human touch and make an emotional connection with your buyers with the data-driven approach while also diversifying the marketplaces that you are selling on."