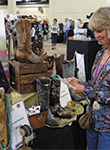 The Denver International Western/English Apparel & Equipment Market, also known as WESA, short for Western & English Sales Association, is the largest trade event geared toward the equestrian industry. "However, don't let the name fool you," says Amy Dill, executive director of WESA. "There are so many crossover and boutique items. Everything from apparel, jewelry, gift, home décor, right up to saddles, bridals, halters, and more."
Originally founded in 1921 as the Men's Apparel Club of Colorado, the organization combined with other groups over the years, and eventually found its permanent home in the Denver Mart when the location opened in 1965. WESA hosts a September market and a January market every year. Each September market attracts buyers and exhibitors from over thirty-seven states and seven foreign countries, and January brings together more than 4,200 buyers from forty-one states and twenty-one foreign countries.

Trends
"We offer everything for the horse and rider," explains Dill. "We've noticed that apparel is on the upswing, so our shows have a heavy apparel presence." Though WESA is traditionally an event for the equestrian community, there are also many gift, home, and casual clothing items. "There is lots of denim," continues Dill, "and lots of gift and jewelry too."
WESA is exclusively an order-writing event, not cash and carry, so retailers can purchase bulk orders and have items shipped directly to their store.
September Market
WESA's next show, September 9th – 11th is sure to be an engaging show for buyers and exhibitors alike. "More than half of the three-hundred exhibitors will be new to the show," explains Dill. So whether it is your first time attending, or you're a WESA regular, there will be a new variety of merchandise for everyone. However, "our core exhibitors don't change," says Dill. "Western is unique in that it's traditional – and people like that. We're not as trend driven as other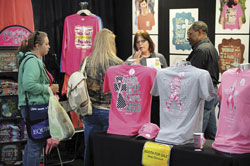 industries."
In addition to new exhibitors and new merchandise, the September market is packed with group events. The day before the show opens, WESA is hosting a charity golf tournament to benefit the National Little Britches Rodeo Association. "Over the years we've raised $60,000 through our golf tournament," says Dill. "It's a great event and a lot of fun." Friday, the opening day of the show concludes with a cocktail networking party including giveaways that can be redeemed at exhibitor booths. There is a business seminar Saturday morning, and a casino night in the evening. "Almost everyone participates in the casino night," continues Dill. "It's right after the show is over; it's a great way to unwind."
"September is a laid back market," says Dill. "It's easy to navigate, meet people, and see products. January is almost triple the size of September, so we recommend retailers start with September to get their feet wet. In January you have to make appointments with exhibitors, in September there is much more time to talk."
How to Register
WESA show is only open to qualified buyers, so Dill recommends registering in advance through their website. A copy of your sales tax license, a business card with your name and store name, and three invoices showing quantity purchases are all required to register. "However, once you are qualified with us you can call, we'll send your badges in advance, and you can walk right in at the show," says Dill.
There are two preferred hotels with negotiated rates for the September market. Complementary shuttles to and from the hotels are available during show hours. Dill recommends downloading their app and following WESA's social media accounts before attending the show to get more details on show specials and merchandise. All attendees and fans are encouraged to use the hashtag #WESADenver to share their experiences.
For more information, visit www.denver-wesa.com.