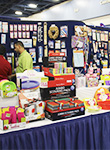 Asia America – Miami Wholesale Show is an international order-writing show held annually at the Miami Beach Convention Center. "This show is the major gateway to Latin America and the Caribbean," says show owner Michael Finocchiaro. Each event regularly attracts buyers and exhibitors from over forty countries, including anywhere from 4,000 – 7,000 buyers and over 200 exhibitors. Their next show, August 21st – 23rd will be a combination with Finocchiaro's other trade show, Miami Wholesale Show.
Due to the combined event, Finocchiaro is expecting double the turnout. "The attendance is always increasing," he says. "Miami is a giant international import and export hub. Our shows target this region of the world so we can offer what very few trade shows can: expertise in closing the circle between manufacturer, enterprise, distributor, wholesaler, importer, exporter, and service companies. We are targeting precisely the kind of businesses buyers can partner with that fit their criteria."
Buyers who attend each show can expect a wide variety of merchandise. Consumer electronics including home entertainment, gaming, computers, audio, cellular, and tablets are all popular categories. General merchandise also makes up a large portion of the show, including; textiles, apparel, accessories, sporting goods, leather, gift, kitchen, health and beauty, home furnishings, and toys. There is also a variety of outdoor, camping, souvenir, seasonal, convenience, dollar, novelty, hotel, restaurant, closeout, and liquidation products. "By design we have a very diversified show. We want to carry a variety of products, because that's where our buyers' interest is," explains Finocchiaro.
Although Miami Wholesale Show and Asia America are in their seventh year of operation, Finocchiaro and his team have over thirty years of experience in the wholesale tradeshow business. "We have developed an expertise in using Miami as the hub of the Americas. We utilize the infrastructure in Miami for banking, shipping, freight forwarders, and customs brokers," says Finocchiaro. In addition to having industry connections inside of Miami, Finocchiaro works with over 1,000 travel agencies to promote their show internationally. They also have relationships with over 2,000 professional associations. Finocchiaro says their connections allow for easy access to translators at their shows.
Attendance is free for all qualified buyers as long as online registration is completed before August 15th. Buyers should bring a business card or other proof of their retail business for admission at the door.
To register for their upcoming show, view travel information, and for a detailed show schedule, visit www.acsshow.org.
Upcoming Dates:
August 21st – 23rd, 2016,
Miami Beach Convention Center