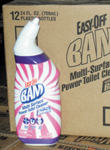 There are a lot of wholesalers out there who promise that they have everything, but it seems like the folks at Pennsylvania based Discount Wholesalers Inc. actually do. A recent conversation with Saja Stark, Executive Sales Manager of DWI, revealed a breathtaking amount of inventory in their warehouse, with more coming in daily. "We're finding that in this economy, everyday products are the biggest sellers," she says. That includes the usual health & beauty aids, paper products, shelf-food and other general merchandise. "And we're moving it at a heavily discounted price, which makes it an even more valuable find for our buyers," Stark adds.
Stark points out that some of the items DWI carries are going for as low as 60 percent off the wholesale price. "So, for example, an item that might manifest in a store for $2, and would normally wholesale for one dollar, we have available for 40 cents," she notes. And that would explain why DWI is moving so much product: price, quality and availability are key for smart buyers.
A quick tour of DWI's online site (at DiscountWholesalersInc.com) shows a mind boggling array of available product, ready for immediate shipment. For example, sunglasses are packed 150 to a box, at only 55 cents each. Discount Wholesalers also offers new, shelf pulled clothing from a major department store at only $1.75 per piece, with 600 pieces to a bin. When asked what products are moving fastest out of her warehouse, Stark has an immediate answer. "Anything that would be in the grocery store or drug store right now is a hot item," she says. "That includes food products, paper goods, health and beauty, and all that. It's selling well because it's being re-sold at a fraction of the usual cost, and many more people are shopping these days in the secondary market in this tight economy."
Discount Wholesalers also has a large inventory of high-end toys, from manufacturers so popular that Stark couldn't mention names. "With the Christmas season fast approaching, we've got some excellent buys on the toys parents will be looking for," she says. Selling to a wide variety of buyers, including flea markets, small discounters and dollar stores, Stark says she's noticed that her customers are moving away from store returns and going to more shelf ready products.
"We're not seeing much interest in high-end items," Stark reports, "but it seems buyers are eager for more everyday items," a move she also attributes to the economy. For those ready to take advantage of DWI's full offerings, the company can ship within 24 to 48 hours. And registering as a buyer is easy, "Customers only need to call, email or come in to see us and discuss all the options," Stark says. And for those looking for a variety of items at a great price, Discount Wholesalers has a wide offering of mixed pallet goods, containing new, shelf-pulled items, merchandise nearing its end-date, goods replaced due to new packaging, and more.
"We take a great deal of pride in offering clean, new, name brand, made in the USA, original cased and shelf pulled products, the names people are looking for at a small fraction of their original value," Stark said. "We offer goods by the case, by the pallet and by the truckload to accommodate any size customer, regardless if they are around the corner or on the other side of the world. We have warehouses in Pennsylvania and North Carolina that are packed with many types of general merchandise, health & beauty aids, cleaning products, toys, office and school supplies, dollar store goods, cosmetics, clothing, seasonal merchandise, winter goods, foods, drinks, paper products and much more."
Those interested in buying from DWI would be wise to visit their site and browse the various sections. They're broken down by category, and list everything currently available along with full color pictures. Buyers need only sign and fax back a copy of their Policy Agreement and credit card authorization form (both available online).
For more information:
Discount Wholesalers Inc.
1985 Ticonderoga Boulevard, Suite 27
Chester Springs, PA 19425
Tel.: 610-458-1131
Website: www.discountwholesalersinc.com