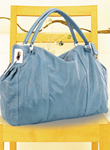 When handbag maker and wholesaler, Gisele Lao, started Dream Bird Inc. less than a year ago, she was confident that even in a recession, customers would buy handbags because they can't do without them. "It's a bad economy," she says. "Nobody is doing well. In this economy, people will go for necessities. We saw it as a big market." Both old customers and young ones need what she sells. "A lot of people, regardless of age, all go after the fashionable things," she says. "That's why we decided to enter this business."
The opportunity, as Lao sees it, is to offer a unique product in a crowded marketplace. For Dream Bird, that means unique styles: 200 different styles of handbags, and counting. "We design them," says Lao, and "we have our own in-house designers." But handbag designs, even new designs, need to stand out. And for that, Lao has a strategy. "Our designs are a mixture of eastern and western culture. We're Asians, but we have been here for a long while. We know what is going on in the U.S. market and in the Asian market. So we're trying to combine them. Some people are excited about the exotic designs, while others really love local things. So we're trying to mix the cultures together."
The product is designed in America and produced overseas. New styles are made in sample batches, tried out, and then more are ordered if the style looks likely to succeed. Where do the designers get their ideas? "Sometimes it is just sudden inspiration," says Lao. "Sometimes you just need to do research." That research includes going to trade shows, listening to customers, and paying attention to the trends. For example, apparel is a leading indicator for handbag materials, Lao explains. If lace is looking like a coming trend in clothes, for example, lacy materials will likely soon appear in handbags.
Dream Birds seeks to increase demand for its generally mid price point product. To that end, it uses traditional marketing tools like trade show attendance, advertising, an emailing list, and a wholesale website. But there's another angle to pursue. "We want to raise the interest from the end users, the customers, so they will search for us. That will gain interest from the retailers and wholesalers," says Lao. The plan to do that includes consumer advertising and, "sponsoring events to get our name in the air." In addition, the company is planning to launch a consumer oriented website soon.
For retailers seeking to carry the Dream Bird line, the minimum order is $200, with sales by the case, at a dozen items per case, one style, one color per case. The company does not sell at less than caseload. Dream Bird's main customers are independent retailers and online businesses at the moment, with a move to department stores an option for the future. Volume pricing is available, usually negotiated by phone or in person. The wholesale price to retailers is about $30 per handbag, but with volume discounts to other resellers, the price can drop to less than $20 per handbag. "For the suggested retail price, we usually encourage the retailers to charge at least 2.5 times the price at which they bought from us," so $75 is a typical retail price for one handbag.
For more information:
Dream Bird Inc.
12338 Valley Blvd., Ste. C
El Monte, CA 91732
Tel:  626-450-0748
Toll Free: 877-408-9323
Website: dreambirdusa.com