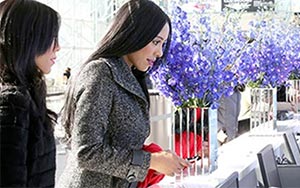 Only one leading jewelry trade show calls New York City home, and that is JA New York. For over 100 years, this trade show has brought the jewelry industry together on the east coast for three focused days of buying, trend spotting, treasure-hunting, and business-building interactions.
The Most Comprehensive Jewelry Show in NY
Smartly styled and cleanly edited, JA New York features a curated, eclectic mix of the season's best jewelry buying opportunities. From diamonds to deco, gold to every gemstone available in the market, retailers can find the most comprehensive collections in the industry. This trade show offers an intimate and easy to navigate high-end marketplace for new and established buyers from around the world. This is your chance to use New York City's premier jewelry event to reach desired shoppers, connect with top brands, and shape the future of success of your business or company.
Discover the Trends
JA New York's next show is taking place on August 8-10, 2021 at the Javits Convention Center in New York City. Because of the pandemic, they are taking extra precautions beyond those mandated by government and local authorities. Temperature checks and face masks are required of all persons entering the building, without exception. While keeping it safe, this event will be home to over 600 of the world's finest jewelry brands, designers, and suppliers representing the full spectrum of market categories. Vendors include high-end designers, major manufacturers, and rising stars that encompass every taste, style, and price point. No matter what type of inventory your store carries or the clientele you serve, JA New York is your one-stop-shop jewelry destination.
From Diamonds to Gold, This Jewelry Show Has it All
JA New York is the only trade show that presents a full spectrum of product categories in an intimate boutique environment. Buyers can focus on finding the cutting edge designs that will set their stores apart without being overwhelmed. Explore the latest diamonds, fine jewelry, and current collections at this well-edited, beautifully laid out B2B trade event. Visit www.ja-newyork.com to register today.
JA New York
August 8-10, 2021
Javits Convention Center, NYC