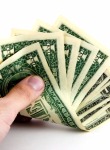 The trend of shopping at dollar stores began before the recession and escalated as the economy worsened, the Charlotte Post reports. The stores, once known for their unruly shelves of odds and ends, have moved into the mainstream during the recession, attracting new shoppers with brighter, well-organized stores carrying a broader assortment of food, clothing, and home goods, the Post says.
"I'm a big Christmas decorations buff. I want quality wrapping paper, trim, and unique ornaments for my tree but I don't want to pay upscale store prices," said Riverside, Calif., resident Mary Whitt, while piling gift boxes in a cart at the dollar store located on North Sierra Way in San Bernardino.
Frugal shoppers are flocking to area stores, keeping cash registers sizzling.  Like Whitt, more people are shopping at dollar stores during the sluggish economy, seeking deals on everything from food, clothing, and health and beauty items to batteries, decorations, storage containers, and sunglasses.  The surge in business has led to increased profits and a growth in the number of dollar stores that sell inexpensive items, many priced at $1 or less.
The full story from the Charlotte Post begins HERE.