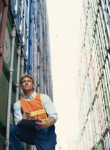 Import cargo volume at the nation's major retail container ports is expected to be up 9 percent in December over the same month last year, and 2010 should end with a 17 percent increase over last year, according to the monthly Global Port Tracker report released by NRF and Hackett Associates.
"The nation's improving economy has been reflected in the amount of merchandise imported by retailers this year," NRF Vice President for Supply Chain and Customs Policy Johnathan Gold said in a statement. "We haven't fully recovered from the recession, and we still need more job creation to get consumer confidence back where it should be. But import levels have seen solid increases throughout the year and we expect that to continue in 2011."
The full report from the two groups begins HERE.