by Jon VanZile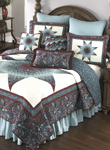 Donna Sharp built her quilting business the old-fashioned way: from the ground up. In the 1980's, she was a hobby quilter who produced designs that people responded to. In the early days, Sharp sold her designs in flea markets and through word of mouth. From there, the company moved into craft markets, then retail stores. By the late 1990's, Donna Sharp Inc. was importing containers of originally designed quilts for sale all over the country, and today Donna Sharp is known for producing beautiful quilts and quilted handbags. The company's products are available in major big-box retailers, like Bed, Bath & Beyond, as well as thousands of smaller retailers.
"We are in a lot of gift shops in places like the Smokies and little towns, Branson, Gettysburg," Sharp says. "About 70 percent of our customers are independent retailers." The key to a successful quilt program, Sharp says, is to carry high-quality quilts and really commit to the product line. "Quilts are a very emotional purchase," she says. "We make very traditional designs that are the type your grandmother would make. These are real quilts with pieces and stitching. They look like collectibles, like something that would make your house a home. It is entirely different than a polyester coverlet you would buy to throw over your bed."
It only makes sense, Sharp continues, to display and merchandise them like collectibles. She recommends displaying at least five quilts at a time, in a beautiful display that really shows them off. This will not only sell more quilts, Sharp says. It will increase sales of everything else as the quilts will attract return shoppers.
"I even suggest advertising our quilts," she says. "A lot of people collect my designs, so advertising will bring them in. This product has been around for 20 years and has great brand recognition. It will benefit retailers to look like a Donna Sharp dealer." Donna Sharp also offers exclusive designs to large customers, as well as custom designs in some cases. Call the company for more information about custom programs.
Becoming a Donna Sharp Dealer
According to Sharp, quilts are good business. The average quilt will wholesale for somewhere between $75 and $300, with a suggested retail price of $150 to $700. They are impulse purchases as well as collectibles, so there is a built-in audience of people who will recognize and seek out the brand. Although Donna Sharp does supply the online market, the company offers a 5 percent discount to brick-and-mortar retailers to encourage more stores to carry the product line. For e-tailers, drop shipping is available. "We stand behind our merchandise," Sharp says.