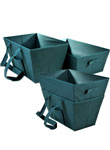 The Double Stax is a reusable two tote bag system that can carry the contents of 12 reusable bags, and is easily collapsible for storage. The versatile unit has multiple uses, including shopping bag, picnic basket, car organizer and storage unit. Double Stax's two totes together hold up to 80 pounds. The larger, bottom unit has shoulder straps and can be carried like a tote, and both units have handles so they can be carried as bins.
Green product fits into shopping cart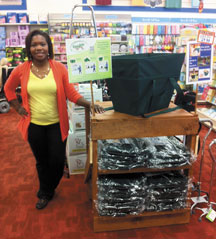 The Double Stax is an environmentally friendly solution to today's plastic problem, stresses Erica Bush, product developer and company CEO/owner. "I created a green product to help consumers join the fight to reduce the consumption of plastic bags." The product is an unexpected result of the inventor's New Year's resolution to be more green. "The idea was to stop using plastic shopping bags," Bush recalls. Reusable bags proved not to be the solution, as they were messy, did not hold much and were often forgotten at home. "When I go grocery shopping, it is for two weeks worth of food for six people," explains Bush, a mother of four children. "The number of reusable bags for all those groceries is anywhere from 20 to 30."
Bush set out to find a better solution, and ended up creating her own. "My product is a reusable shopping bin, made to fit the body of a large shopping cart, which can be safely stacked," Bush reports. The structure is also rigid enough to secure numerous products in one place.  Not only does it help preserve the environment and keep items from rolling around in the back of a car, the Double Stax also cuts down on the number of trips it takes to move groceries or other items from the car to the home. "I can move all our groceries from the car to the kitchen in one or two easy trips," Bush points out.
Insulated liner extends uses
To make the system even more functional and attractive to consumers, Bush is preparing to introduce a washable liner. The insulated, removable liner can be used to keep products hot or cold on the ride home from the grocery store, or at a picnic or tailgating party.  Prior to her retail launch, Bush started showing her product to family and friends, and the reception was great. "It is a good product that makes sense for the environment, and people want to buy it for convenience as well," she points out. "Today's consumers are strapped for time. They are always looking for products that can save them time and make their lives easier. Double Stax does."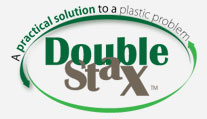 Double Stax wholesales for $12 to $14, depending on quantity, and retail is $19.99 to $24.99. To help retailers sell the product, Bush provides a display that includes a poster explaining how to use Double Stax. There is no minimum order.
Easy Simple Bags LLC
P.O. Box 84
Yorkville, IL 60560
Tel.: 630-383-8761
Website: www.doublestax.com