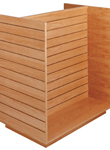 Equipping a store with retail display fixtures can swallow a sizable chunk of any retailer's budget. Yet as retailers swap inventory in and out, associated display fixtures are also frequently changed. Mick Thaxton, national sales manager of Newood Display Fixture Manufacturing, confirms, "It used to be people would replace fixtures every two or three years, just because they wanted a new look." However, the economic constraints of the past few years has forced retailers to invest in fixtures that will last five to seven years. As a result, current retail displays have evolved into a variety of styles and forms to equip the common needs of today's retailer. Now, all that any brick and mortar store, whether a hospital gift shop, book shop or clothing store, needs to concern itself with is a display's longevity, functionality, assembly and practicality.
Newood's brick and mortar customers can select from 20 plus product lines, ranging from $10 to $2,000. Available store display fixtures include cash wraps, point-of-purchase displays and show booths, direct from the manufacturer with no minimum purchase requirements. Thaxton adds, "The store owner can purchase fixtures one at a time, until they have exactly what they want. When most people order fixtures for their stores, it is usually one of this or two of that." With such tailored orders there is limited opportunity to get any kind of volume pricing. "If we have the opportunity to run volume pricing on an order, then we most certainly try," notes Thaxton.
Durable Display Designs and a Catalog to Show All
As with any tool, a retail display is only a means to an end, and in the hands of a skilled user any retail display fixture can be used creatively and produce remarkable results. Take for instance Newood's most popular line, Designer's Choice Perimeter System fixtures. This display system provides maximum design, finish and display options to meet ever changing retail needs. Retailers achieve the right look and functionality by selecting from a variety of standard components, and then dress up their store by adding molding, special features and finishes that complement the fixture. All standard components, run less than $100 each. "Coming in a close second is Newood's NewSelect stockroom pine shelving, which is 100 percent Lundia compatible," says Thaxton.
Standard catalog fixtures are available in Oak and Maple. Oak, a reddish-brown hardwood, is very strong and hard, with a prominent and distinctive grain. Maple, a blonde to reddish-brown, dense hardwood, is very strong and hard with a subtle grain. Some fixtures are also available in wood-grained Melamine. Upright fixtures are solid wood, while shelves and panels are Oak and Maple veneered plywood. Other types of wood are available for custom fixtures.
Pricing and lifetime, however, have taken the lead in helping to determine a retailer's decision in store display fixture design. Thaxton only briefly remarks on a third factor that will soon be added to the list of criteria. "One major shift over the next few years will be eco-friendly materials. We have already switched to a 100 percent water base lacquer, and we are currently switching all lighting over to LED," he says. Whatever the criteria, Newood's business is finding new designs that meet its customers' needs.
For more information:
Newood Display Fixture Mfg. Co.
PO Box 21808
Eugene, Or 97402
Toll Free: 800-233-9663
Fax: 541-688-5868
Email: newoodsales@newood.com
Website: www.newood.com