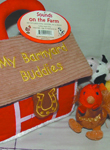 Over 25 years experience in pretesting products in small marketing rollouts has led Readon Publications to become a source of high margin, impact products, easily merchandised in a large cross section of retail enterprises. Finding initial success in the book fair industry, the company's books continue to be highly sought after items, with the addition of  general merchandise and giftware. According to Frank Klinger, marketing representative, "Our suggested retail on almost all items is at least double the wholesale price. Also, some suggested retail prepricing allows for aggressive discounting while maintaining high margins. A snapshot of pricing can be seen on the company's homepage."
Best Selling Books and More
Readon's complete product listing includes cookbooks, children's activity books, stationary, and both general and seasonal giftware. The Home Sweet Home Decorative Photo Frame, available for $12.75 wholesale with suggested retail of $24.95, and the Fix It and Forget It Big Cookbook, with a price of $7.50 wholesale, retailing at $59.99, are a couple of the high margin products supplied to retailers. Of all the high margin, impact products receiving customer attention, slow cooker cook books are growing fastest in popularity. Klinger sees these types of easy assembly cook books as a trend in the market. "It seems that busy couples are throwing together a slow cooker recipe at the beginning of the day, and coming home to a hot and ready meal," he says. Customers want something that fits into their on-the-go schedule, with quality results.
Readon requires a $500 minimum, but offers attractive specials. Klinger notes, "The most attractive special we offer customers is the breakdown of case packs, allowing more variety in an order. For most independent retailers, this is a huge help. We can ship almost any item in quantities of three or six." For those retailers who can buy multiple cases or place orders over $1,500, a call should be made to Readon for discounts.
Klinger notes, "Time and time again, I get phone calls asking, 'Do you have any more of those (fill in the blank), they've sold out.'" Such inquiries are exciting when new product developments are underway. According to Klinger, Readon currently has two new product developments in the works. First is the return of some of Readon's top selling items for the Fall and Christmas Season, including The Barnyard Buddies Toy, Through The Seasons Memo Pad Set, and the Neck Pillow with built-in Book Light. Klinger adds, "These products were brought back in late August." Readon's other new development is the expansion of one of its key categories, decorative 51" by 64" fleece blankets. "We're now producing Teddy Bear patterns to go along with our Christmas/Snowman patterns. They're all in production and soon will be posted on our website. All in all, no matter what kind of retail operation you have, Readon has something for you and your customers," Klinger notes.
For more information:
Readon Publication Inc.
8241 Keele Street Unit 9 & 10
Concord, Ontario L4K 1Z5
Canada
Toll Free: 800-401-9774
Fax: 905-761-1377
Website: www.readon.com