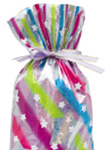 Giving a gift takes preparation, involving many components such as wrapping paper, tape and tissue, and if the gift is to appear put together, time is also a factor. Today, however, as revealed by a 2009 survey commissioned by Scotch brand tapes, more people are wrapping last minute (one to two days before the event) compared to those allowing preparation time (three to six days before the event). Yet, time isn't the only challenge to traditional gift wrapping, as nearly, "a quarter of the adults surveyed (24 percent) list not having the right supplies on hand as their most common mistake." At $0.45 to $0.90 wholesale apiece, with an MSRP of $1 to $2, Misumaru's gift bags are a great addition to any independent retailer's gift section for on-the-go consumers.
1-2-3 Draw String Wrapping
According to Jon Sharver, VP and director of sales, "Misumaru's 1-2-3 gift bag with draw string ribbon, available in over 100 designs, makes gift wrapping less of a hassle with no more gift wrap, tissue paper, bows and tape to worry about." Among the available designs are the modern and stylish metallic with a polka-dot finish, the traditional design with a soft non-woven finish, the holographic design with diamond finish, as well as party, seasonal and holiday designs. These bags also hold a gift of any shape and size: as they come in four sizes, small, medium, large and wine. As a result of their double layer design, the bags are far more durable than paper, holding up to 12 pounds. The durability of Misumaru's gift bags also allows for recycling, which is important to today's gift givers, as, "Just over half of the adults surveyed (by Scotch brand tapes) have saved and re-used gift wrap paper."
For independent retailers looking for variety in their gift sections, Misumaru offers a 48 mixed configuration everyday set, great as a starter kit, for $75. For retailers who know exactly what they want to market in their store, Misumaru also offers custom designs, as the products are factory direct. Misumaru requires a $100 minimum order. Although budgets remain tight during the economic recovery, Sharver assures, "Retailers get the best deal when completing a minimum order of $100, as any order under this amount would not be worth the shipping costs." Product pricing is available on the company website, and orders of a certain volume receive discount pricing. Misumaru offers direct supply to the entire retail industry, as well as dropshipping services to ecommerce businesses. While contacting the company directly is a good way to learn more about its products and pricing, Misumaru is showcasing at the ASD Tradeshow in Las Vegas, July 31 to Aug. 3, at booth G751.
Although Misumaru's factories are located in Shanghai, China and Osaka, Japan, the company has become a global brand, manufacturing and distributing wholesale worldwide. Its grocery packaging line remains a top seller, but its gift bag packaging has certainly been gaining ground. Misumaru's gift bag packaging products will find successful placement in any independent retailer's gift section, as the packaging of this tradition changes. After 40 years of operation, Misumaru is recognized as a pioneer and leader in polymer plastics packaging. Among its achievements, the company was one of the first manufacturers of space saving packaging, using compression technology in its design, and also proudly claims to be a non-PVC manufacturer. As the company's gift bag packaging products become increasingly popular, Misumaru is recognized as a printing specialist, operating up to nine color printing in the development of its quality designs.
For more information:
Misumaru
Tel.: 707-290-6262
Website: www.misumaru.com