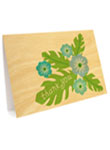 The trend in environmentally friendly goods is carrying over to greeting cards and gifts, and offers independent retailers an exciting opportunity for sales. Innovation and changing attitudes within the design and manufacturing industries means that this market offers greater choices and commercially viable price points. By including eco-friendly cards and gifts into their buying plans, retailers can help the environment, give their customers a feel-good reason to buy, and help strengthen the sector.
Environmentally friendly designs
Originally cost-prohibitive for many businesses, a growing number of designers and manufacturers are utilizing recycled materials in design and production. Even the traditional gift of socks has been given an eco-friendly makeover. California-based Rock n Socks chose to produce stylish socks in the USA with yarns made from recycled materials. Designing its line around regenerated cotton, Rock n Socks is able to use cotton scraps left over from the manufacture of clothes to produce this unique item.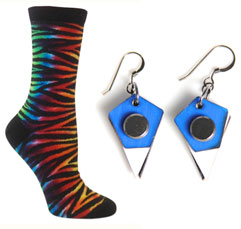 As the industry grows, smart retailers have a chance to research what the market offers, develop their own eco-philosophy, and appeal to environmentally aware customers. In addition to the growth in recycled goods, consumers have heightened interest in upcycled designs and supporting local manufacturers. By investigating and implementing any one of these trends, retailers can lead the way in eco-commerce.
Along these lines, Wrecords by Monkey creates a unique gift collection from reclaimed vinyl records. The Brooklyn-based design studio makes handmade jewelry and gifts by upcycling a product that would otherwise have ended up in a landfill. These stylish gifts not only appeal to every generation of music-lovers, but also claim a low carbon footprint. Rock n Socks and Wrecords by Monkey are not unusual. With a little research, retailers can find other environmentally friendly manufacturers and products. Incorporating recycled or upcycled gift lines into buying plans can be a great way to test the sector, and see if it is the right fit for a merchant's business.
Green greeting cards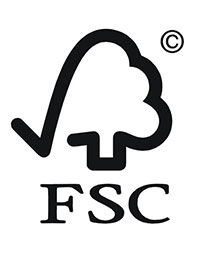 In looking at the greeting cards market, there are signs that eco-friendly considerations are becoming the norm. More publishers are using recycled envelopes and paper, and card stocks are increasingly referencing FSC certification. The FSC, or Forest Stewardship Council, is a not-for-profit organization established to promote responsible management of the world's forests. This shift is great news for retailers keen on introducing these products and practices to their customer base. Wider adoption lowers prices along the supply chain, enabling more designers and makers to factor in eco-friendly materials, which in turn produces a greater variety in product choices.
Card and gift company, Night Owl Paper Goods, aims to encourage and inspire respect for the environment. With responsible sourcing practices, environmentally friendly materials, safe printing practices and local manufacturing, the firm ensures every step of its business is eco-focused. Their "modern yet folksy" wood veneer cards use even less wood than it would take to make a regular paper card.
Being environmentally conscious is a part of everyday life for many consumers, so it is only natural that the gift industry follow suit. While not every retailer is ready to convert their shop to solar power or go 100 percent recycled, every environmentally aware step counts, and your customers will notice.