By Nathania Stambouli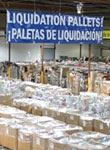 With the rapid rise of bargain shopping and the proliferation of ecommerce and coupon sites like Amazon and Groupon Goods, consumers' shopping behavior has changed dramatically over the past several years. Shoppers are now increasingly focused on getting the best possible deals on the highest quality name brand items.
Independent retailers used to be able to fill their brick & mortar or online stores with deeply discounted non-branded imports, or merchandise priced at market rates. They are now faced with the new challenge of attracting extreme value driven shoppers, which can present a struggle when sourcing inventory. The wholesale marketplace is full of new master case non-branded items that are in decreasing demand, leaving room for a different type of product to take center stage. With liquidation merchandise, retailers are able to supplement their regular assortment of goods with high demand branded items, offering their customers real bargains while increasing their margins significantly.
Brand names for the budget conscious
Merchants worldwide are capitalizing on liquidation goods by sourcing them at a small percentage of their original retail value, and selling them to bargain hunting consumers at a significant discount over their original price. It is not uncommon to find wholesale lots of high-end branded shoes like Steve Madden, Nine West and Coach, available on the liquidation market for only 12 to 15 percent of their original retail price. Retailers are then able to offer their customers at least a 50 percent discount off the original cost of the shoes, while doubling, if not tripling their investment.
Savvy retailers also purchase liquidated branded cosmetics or other impulse items that they place in bargain bins in their stores, supplementing their regular inventory with products that help increase the amount of each customer's purchase. These items also make great marketing tools when used as promotional giveaways, or gifts with purchase to thank customers for their business.
Irresistible loss leaders
Liquidation goods have also proven to be highly effective as impactful loss leaders, or attractive, in-demand items that are primarily used to draw customers to a business, rather than to generate high profits. Since retailers have unprecedented access to in-demand items like large flat screen TVs and designer handbags, many choose to market loss leaders in their advertising to bring customers into the business, and then focus on selling higher margin items to those customers. By definition, prices on loss leader items can sometimes be fairly high; for instance, 55 percent of retail for TVs versus 15 percent of retail for shoes, making them excellent customer generators rather than profit generators.
More varied product mix
Liquidations offer a different kind of experience, providing retailers with a wider mix of products within a single wholesale purchase.
The nature of liquidation products makes them particularly appropriate for smaller retailers who cater to a wide array of customers. When sourcing inventory from manufacturers or purchasing regular wholesale deals, minimum quantities can be large, often leaving smaller retailers stuck with too many units of the same item. Liquidations offer a different kind of experience, providing retailers with a wider mix of products within a single wholesale purchase. For instance, a liquidation lot of assorted designer clothing may contain a variety that includes outerwear, jeans, tops and a percentage of fashion accessories. Where a regular wholesale purchase of non-liquidation goods might be comprised of 500 units of the same type of item, liquidation lots give retailers access to fewer units of any one item, allowing them to avoid being stuck with excess inventory. This also increases the urgency for consumers to purchase, since there is no guarantee that a particular item will be in stock in the future.
Liquidation products are available through liquidation specialists throughout the country, and are usually purchased on an auction basis or at a flat price, depending on the liquidator. To get started with liquidation products and test how they will contribute to the success of your business, look for a supplier that offers low to no minimum orders, great customer service, a wide variety of items, and a consistent supply so you can keep them coming if they do well.