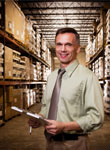 E-tailers who don't deliver goods as promised can lose customers. A recent survey found that, of consumers who experienced a failed online purchase attempt, 23 percent stopped shopping at the site in question and 28 percent stopped shopping online altogether, according to Boston Consulting Group. For effective order fulfillment, your business must address:
Order turnaround time:
Ensure that orders are fulfilled quickly and shipped on time to your customers.
Inventory accuracy:
Actual inventory counts and what your inventory software indicates must match or you may not be able to fulfill orders.
Operational efficiency may be the responsibility of your employees. As your operation grows and you begin to hire individuals to assist with fulfillment, you need to adopt processes that will enable your business to scale, such as:
Assign fulfillment specializations.
From updating inventory counts to boxing orders for shipping, having specializations on your fulfillment team increases productivity.
Ask your team to help improve processes.
Your specialists will know better than you what impacts their operations, so lean on their expertise.
Hold short fulfillment team meetings to start each day.
In these, the team reviews key metrics and shares updates on goals, and each team member voices their thoughts on what needs to be done.
If fulfilling orders is too time consuming or you are relying on your staff to go beyond their core competencies, consider outsourcing. Most full service fulfillment companies will offer storage/warehousing, order processing, returns/exchanges and administration. If you are considering outsourcing, get a list of references and a sample monthly bill in regards to the services you require. Since a fulfillment organization has all or most of your products, and they are in final contact with your customers, you need to trust that are honest and reliable. For starters, determine if they charge extra for receiving, picking, packing, warehousing, invoicing, handling or insertion of promo materials. Ask them how returns are handled and charged. Visit the fulfillment service's warehouse to be sure it is clean and well organized. Be sure the organization is using top-notch software systems. It is also wise to confirm that the fulfillment service offers all of the shipping options you currently offer your customers. A reputable fulfillment company will be glad to answer any of your questions.
Order fulfillment is a crucial part of business. As the last link in the supply chain, it is essential that orders are fulfilled quickly and shipped on time to your customers. Independent retailers must weigh the pros and cons of in-house versus outsourcing this function, ultimately considering how to best apply resources for the greatest end results.