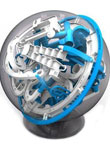 Toy retailers across the country are releasing their annual hot toy lists to predict the holiday season's best sellers. Knowing early what will be popular during the holiday shopping season is crucial to retailers seeking to have the right mix of toys at the right prices. The holiday season can account for about 40 percent of a toy seller's annual profit. Last year, U.S. retail sales of toys was $21.18 billion, according to the NPD Group.
The Toys R Us hot toy list includes tablets for kids, fashion dolls in the likeness of boy-band sensation One Direction, and retro hits like Teenage Mutant Ninja Turtles and Furby. Learning Express Toys' features stilts, craft kits, logic games and a 3D paint kit.
Toys R Us Top 15
Doc McStuffins Time for Your Check Up doll by Just Play, $39.99: Doctor doll based on Disney Jr. show character.
Furby by Hasbro, $59.99: Update on hit 1998 furry interactive toy robot.
Gelarti Designer Studio by Moose Toys, $24.99: Sticker set that lets kids paint and customize reusable stickers.
Hot Wheels R/C Terrain Twister by Mattel, $99.99: Radio-controlled car that takes on all terrains.
Jake and the Never Land Pirates Jake's Musical Pirate Ship Bucky by Mattel's Fisher-Price, $44.99: Ship from Disney Jr. animated series.
Lalaloopsy Silly Hair Stars Harmony B. Sharp by MGA Entertainment, $69.99: Version of popular button-eyed dolls that talks and sings.
LeapPad2 Explorer by LeapFrog, $99.99: Latest iteration of LeapFrog's kids tablet with faster processor and more memory.
Micro Chargers TimeTrack by Moose Toys, $34.99: Miniature car racing track set.
Nickelodeon Teenage Mutant Ninja Turtles Secret Sewer Lair Playset by Playmates, $119.99: 42-inch playset that recreates TMNT's lair.
Ninjago Epic Dragon Battle by Lego Systems Inc., $139.99: Ninja-themed Lego board game.
One Direction collector dolls by Hasbro, $19.99: Dolls of each of the five members of One Direction.
Skylanders Giants Starter Pack by Activision Publishing Inc., not yet priced: A sequel to Skylanders Spyro's adventure that combines real-life action figures with a video game.
Tabeo by Toys R Us, $149.99: Toys R Us' own tablet offering with enhanced safety features and 50 preloaded apps.
Wii U by Nintendo, not yet priced: Nintendo's new two-screen gaming console.
Y Volution Fliker F1 Flow Series Scooter by Atomic Sports, $99.99: A three-wheeled scooter that is self-propelled by the rider's movement.
Learning Express Toys Top 10
Ready Set Stilts and Ready Set Pogo, $34.99: Adjustable stilts and pogo stick.
Laser Fingers Party Pack, $9.99: Individual flashing lights that attach to kids' fingers.
Tenzi Dice Game, $14.99: Fast-paced game of rolling dice and matching numbers.
Perplexus Games, $19.99-29.99: A marble is trapped in a maze; kids tilt and twist the maze to get it through.
Swish Game, $12.99: Logic game focused on matching colors and shapes.
Suspend Game, $16.99: Players try to build structures from rubber-tipped wires.
Boogie Board, $39.99: Pressure-sensitive drawing and doodle board.
Duct Tape Kits, $16.99-$24.99: Guide to creating crafts from duct tape.
LoopDeDoo Bracelet Maker, $34.99: Everything kids need to create bracelets.
Magna Tiles Kits, $49.99: Magnetic tiles that kids put together to form sculptures.