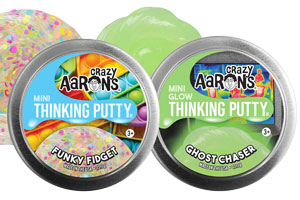 Perfect for the back to school season, Crazy Aarons' putty can help keep children focused and entertained while sitting in a classroom. From deliciously-scented putty to putty containing little fun pieces inside, there is so much to choose from. Teachers absolutely love to stock up on this non-toxic putty to keep students captivated.
Top Selling Putties
One of Crazy Aarons' best-selling products is their Liquid Glass Thinking Putty. Just like the name implies, this crystal-clear creation is so transparent that the tin often appears empty to the naked eye. With use, this putty will become cloudy, but will change back to crystal clear eventually. Another very popular product is the company's Honey Hive Thinking Putty. Just being launched in early 2022, Honey Hive immediately sold out and continues to be a huge hit among consumers. The energetic amber and glistening gold hues of Honey Hive are mixed with honeycomb sparkles and buzzing bees that are sure to keep users mesmerized.
Adding More to Play Time
Crazy Aarons offers Thinking Putty®, SCENTsory Putty™, and other fun toys to help make playing with putty even more enjoyable. Thinking Putty® helps build hand and finger strength through a tabulous tactile play experience with unique, unexpected properties and provides relaxing, yet stimulating interaction. The brand's SCENTsory Putty™ goes way beyond scent to invoke a total sensory experience like no other. Users can indulge their senses with the velvety soft touch, the dynamic look, and the wonderful scent and discover just how amazing SCENTSory putty can make them feel. All of Crazy Aarons' putty is non-toxic, will not dry out, will not leave a sticky or slippery residue on the fingers, is proudly made in the USA, and manufactured with the help of exceptional individuals with disabilities.
Community Engagement at All Levels
A world leader and innovative company in creative play, Crazy Aaron's has been making genuine Thinking Putty® since 1998. Founder, Crazy Aaron, has continued to trailblaze within the toy industry by establishing new product lines and brands to inspire curiosity and wonder for curious consumers of all ages. The brand has worked with the disability community to support the production of their products since 2003. Over the years, they have had over 800 individuals with intellectual and physical disabilities working on their products each business day. Working with vocational centers allows Crazy Aaron's the best of the qualitative and quantitative worlds.
To view more of what Crazy Aarons has to offer, visit their website at www.crazyaarons.com.
Crazy Aarons
866-578-2845 ext. 117