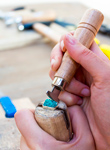 The wonderful online world of Etsy has made it amazingly easy for people with creative minds to start their own shop. Creative 'makers' can have a regular 9 to 5 job and sell products from their favorite hobby on the side for some extra cash. There's no doubt that Etsy has grown since it first started in 2005 with both online shop owners and customers. Just last year the online platform showed especially promising growth, hitting their first ever billion-dollar quarter, according to Retail Dive.
Etsy Wholesale is a great new bridge between independent makers and brick and mortar retailers, bringing the thrill of handmade items that consumers can actually touch into a physical store. Everyone wants something that's unique; the thrill of getting a handmade customized item that nobody else has is what's driving more and more millennials into brick-and-mortar stores. According to an online study conducted by EMarketer Retail, most consumers still like to do their shopping in stores. This creates ample opportunity for independent retailers to catch the eye of passers-by with interesting and unique homemade products from Etsy sellers.
Just look at how selling Etsy products has helped and inspired these three different independent retailers:
Fair Folks and a Goat coffee shop in Manhattan introduced the world's first membership café, where a small monthly price of $25 gets people unlimited coffees, teas, lattes, espressos and lemonades. The cafe also sells products from Etsy shop owners such as Hartland Brooklyn and Quill and Fox, according to Etsy Journal. Aurora Mazzei, co-owner of the small coffee shop, says that there is no substitute for face-to-face interaction or the chance to hold something before purchasing. Customers come in to relax and end up finding more than they're looking for with the variety of handmade products on display.
brickAnother independent shop owner, Emily Blistein, is more than happy to promote Etsy products in her store, Clementine, in Middlebury, VT. According to Etsy Journal, Blistein sells gold-lipped dishes from Up in the Air Somewhere, and natural soaps, serums, and moisturizers from Caru Skincare Co. online shops. Blistein said she's grown close to many of her Etsy vendors and loves cheerleading for them and their lines.
John Frechette, owner of Made in Jackson Hole, WY, says he loves having a chance to give customers something unique that comes with a story from an amazing artist. Frechette sells products from online Etsy shops including color-splashed jewelry from Son of a Sailor and manly-man grooming products from Whiskey, Ink & Lace. Being located in a town that relies heavily on tourism, Made in Jackson Hole, WY still sees locals come in to the gift shops just to see the new product changes. Frechette adds that he loves to bring people face-to-face in his shop to create a more intimate shopping experience.
The main thing all of these independent shops have in common is their love for creating a supportive community and forging special relationships with their customers. Carrying products from Etsy Wholesale is a great way to support fellow entrepreneurs and stock your shelves with one-of-a-kind items. Customers will love the uniquely handmade products and they'll help bring in more traffic, especially during the upcoming summer months.